Wolfgang Huhn caught up in Ingolstadt with Michael Hamm, Jonas Kobbert, Tilman Armbruster, Johannes Reschke, and Christian Hinterwälder, all working in the lighting engineering department at Audi. Each answer in this interview is a summary of the discussion of each question with the whole team. The discussion was in a meeting room together with a MS Teams connection to a part of the group who worked from home.

DVN: What is the intention for a car company's lighting research?
Audi Team: Audi push lighting innovation to increase traffic safety. Research must be carried out to prove the benefit of an innovation and to exclude unwanted side effects. The necessary environment for reproducible and stabile results is available 24/7 in really fantastic quality.
Resources available to lighting researchers includes:
• the 120-metre light tunnel;
• the test track with a high-speed oval, several handling courses, and a huge circular flat area;
• the Driving Experience Centre at Neuburg, and
• public city roads, country roads, and the motorway close by.
DVN: How come Audi don't shop out studies like this to research institutes?
Audi: For really basic questions, like the headlamp performance rating system, we go to internationally accepted lighting research institutes. Research Coöperation within national or EU projects also run together with external institutes. This is of course much more time and money consuming than in-house research work.
Our own projects are fast. They're done exactly when necessary, not when capacity is available somewhere in the world—a big advantage in timing by using research capability available in house. Another reason for in-house projects is the necessity to work with secret prototypes which must not leave the Audi area.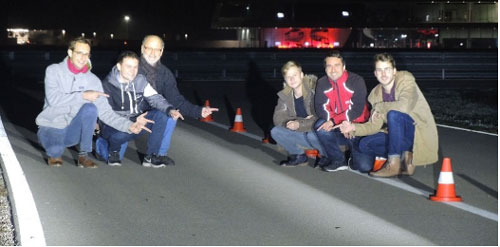 DVN: Who is planning the evaluations and test set ups? Who is carrying out the research work?
Audi: Our young Ph.D. holderst and students come from reputable institutes like TU Darmstadt, KIT Karlsruhe, Delft, Illmenau, Augsburg, and Regensburg. They instruct and advise students and employees. They carry out the research projects exactly like they have learned in their university institutes.
DVN: What about test persons?
Audi: Test persons are another key factor in case of human factors research. We use different pools of test persons, like paid persons from commercial institutes, pools of students, unpaid sports (or other) club members who take part because it's exciting, friends, relatives, and in case of public tests we ask passerby pedestrians to spend some minutes with us. Online studies are also done; they can attract over a thousand participants. In case of tests with secret prototypes, employees outside the lighting department are invited to the light tunnel or test track to serve as test persons.
DVN: Are the results public or closed? How do you publish the research results? Are the results neutral and independent?
Audi: All Ph.D. theses done in the Audi lighting department are public. All other research work results are in 80% of the cases public also. Only a minor part of about 20% is closed, mainly because the results are not in the public interest. Publications by Audi researchers can be divided into 3 groups:
• Peer-reviewed Journals like "Advanced Optical Technologies", ATZ worldwide, and SAE papers;
• Public events (congresses) with publicly accessible documentation (published with an ISBN, for example) like ISAL, OLED summit, LOPEC, VDI optical Technologies, ALE Shanghai (WeChat publication), IFAL Shanghai (WeChat publication), automotive electronic congresses, and books like Handbook FAS;
• Semi-public events (congresses and workshops) with documentation for members and participants only like the Vision Congress and DVN events.
An official bibliography with references is mandatory if the research results will be used by authorities or NGOs for lighting regulation development.
DVN: What else would you have us know?
Audi: Fields of Audi lighting research are communication (projections, symbol displays, signalling lamps) and traffic safety (glare, glare control, distraction, guidance and support by lighting functions, performance ratings).
DVN: Thank you all for this exciting afternoon. Audi lighting's mindset seems to be strongly influenced by the integration of the whole department into the research activities of a group of young science professionals.