On 19-20 April—a little over a month from now—for the first time since the DVN Workshop in Munich two Januaries ago, there'll be a DVN Workshop live and in person, face to face, with great speakers and a large spread of exhibition booths.
The theme of the workshop is High Tech Lighting—Impact on Safety, Regulation and Style, and all the most important topics will be discussed.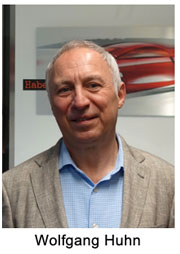 Wolfgang Huhn, formerly Audi's head of lighting and now DVN Senior Advisor, will open the workshop with a live keynote entitled My Journey from Audi to DVN.
Then, two sessions dedicated to automakers will showcase achievements and innovations and their efforts to improve safety and styling with glare-free high beam, road projection, laser lighting, OLEDs, micro-optics, small headlamps and rear lamps, and full-width lighting elements. At the end of the lectures, a half-hour Q&A session will be live-moderated by session chair Hector Fratty.

For these two sessions, we are happy to welcome:
• Dr. Henning Kiel, Manager Front Lamps at Shanghai VW, presenting Lighting Technologies for Human-Vehicle communication
• Jonas Kobbert from Audi's headlamp development department, on Attention and Distraction by Dynamic Light Functions
• Whilk Gonçalves from Stellantis, on Stellantis Global Strategy for Communication Using Lighting
• Lili Yang, Group Leader of front lighting at FAW VW, on Matrix Headlamp technology
• Rene Übler from BMW, on Dynamic Laser Matrix Beam
• Paul-Henri Matha from Volvo Cars, on Volvo Plans to be Fully Electric by 2030—Impact for Exterior Lighting
• Michael Larsen, Exterior Lighting Technical Lead at GM, about The long road to legalizeADB in the US
Next will come two sessions dedicated to setmakers. Speakers will describe their technologies to improve safety and styling. At the end of the lectures, a 30-minute Q&A session will be managed by session chair Wolfgang Huhn.

These setmaker sessions will include lectures by:
• Jinlong Ao, Vice General Manager of Hasco Vision Systems, on Beyond Lighting
• Hossein Nafari, VP Lighting, Themal, and Electrical Systems at Mind Optoelectronics, about Popular Lighting Systems in China = 10K pixels level lighting or 1M pixel lighting
• Sebastian Hirsch, Marelli-AL's R&D Director for Asia, on Future Challenges for Digital Style
• Chris Kirchenbauer, Head of R&D Lighting China, on FlatLight-Technologies enabling New Styling for Automotive Signal Lighting
• Cho Yeonggi, Head of Mobis' Shenzhen R&D Centre, onADAS Sensor Integrated ADB
• Luc Brisson, R&D director of Varroc Lighting and Ralf Muenster, Bizdev & marketing VP of SiLC, on Headlamp Integrated 6D Lidar
And a presentation by Lei Fan, lighting manager in China at Valeo, .

Then, for the first time at a DVN Workshop, we'll have two sessions on vehicle interior topics in relationship with optics. There'll be a session on HMI and displays in tomorrow's cockpit, and a session on smart interior lighting. Speakers will include:
• Pablo Gacia Bravo and Weijie Hung , Grupo Antolin Shanghai, on The intelligent cabin by Grupo Antolin
• Prof. Blankenbach from the University of Pforzheim on New Design Visions and Holistic HMIs by Advanced Display
• James Gourlay from DesignLED on Smart Interior Surface Backlighting
• Dominique Heilbron from Novem on Light & Function Integrated Interiors
• Stefan Hoffmann, from Inova on ILaS—The New Lighting Network for the Car
• Sen Zhang from Ansys on Interior Design Workflow
• Dr. Wolfgang Clemens from PolyIC on Smart surfaces with touch sensoric

At the end of the lectures, there will be 30 minutes for a Q&A session managed in real time by session chair Philippe Aumont.
The next session will be one of the most important, focusing on the conflict between styling/marketing and regulations.


Live and online speakers will include some of the greatest lighting regulation experts in the world—GTB President Valter Genone; Secretary General Davide Puglisi, and Vice President Bart Terburg; Wolfgang Huhn, Rainer Neumann, and Chinese regulators including Wang Wei from SMVIC, Zhu Caiping (C-GTB Vice Chair), Bu WeiLi, and He Yuntang. Lectures will cover regulatory priorities for Chinese industry and the way to synchronise the adaption to technical progress of the GB standards and the UN Regulations. This week's DVNewsletter contains our first full interview of Valter Genone, by the way.

The next session will focus on light sources, with status reports and trend discussions on LEDs, OLEDs, matrix, lasers, µLEDs and more by Lumileds, Osram, Everlight and Texas Instruments. The last session will centre on skills to help high tech lighting with presentations on material, electronics, simulation and lamp aiming from Covestro, NXP, Ansys, and AML Systems.