We've been working on major increases in the DVN global footprint, with more and better resources in Europe, North America, China, Japan, Korea, and India to keep DVN members fully informed and up to date on the needs of automakers and their suppliers, and on the innovative new technologies coming faster and faster.

We are now proud to introduce our expanded team of passionate, dedicated experts working tirelessly to build monthly DVN Reports and weekly DVNewsletters for you, to organise DVN Workshops and Conferences, and to build each year an indispensable top-level DVN Study.
The Board, chaired by Jean-Claude Lebrun, is organised around CEO Hector Fratty, Sales and Finance Director Salomon Berner, Senior Adviser Wolfgang Huhn, Director of DVN Interior Philippe Aumont, and Carine Director of Marketing and Business development.
10 experts are working with Hector Fratty, Philippe Aumont, and Wolfgang Huhn to create and refine DVN content:
• Jean-Paul Ravier, former Research director at Valeo Lighting, former ELS director;
• Daniel Stern, DVN Chief Editor and one of the five greatest lighting experts in North America, member of the US Transportation Research Board Visibility Committee;
• Carsten Befelein, former expert at BMW and Toyota Boshoku Europe;
• Ralf Schäfer, former OEM Engineering Marketing VP of Philips (later Lumileds) Automotive;
• Nick Xiromertis, specifically for DVN interior;
• Leo Metzemaekers, director of Product Development, Marketing, & Sales at Philips (later Lumileds) Automotive;
• Rainer Neumann, former Global Technology VP at Varroc Lighting;
• Jean-Paul Charret, former R&D Director at Valeo Lighting;
• Alain Serval, former PSA ADAS expert;
• And we're in talks with a top camera expert; stay tuned.
10 Business development representatives are working to follow DVN members' innovations, expand the DVN member base, and pick up lighting, ADAS, and interior information all around the world:
• China: Carolyn Zhao, and two other Chinese Development reps
• Japan: Eiichi Ono, former Nissan Director of Lighting and T. Sato, formerly of Stanley Electric;
• India: Jeevan Pursala
• Korea: B.Y. Chung
• North America: Ingo Schneider and Dana Lowell
• And we're in talks with European experts; watch this space.
Jean-Claude Lebrun, DVN President and Shareholder together with CEO Hector Fratty, says "DVN has done an excellent job in these 15 years and we are optimistic for the future with these high-expert additions to DVN's marvellous and passionate team".
Interview: Wolfgang Huhn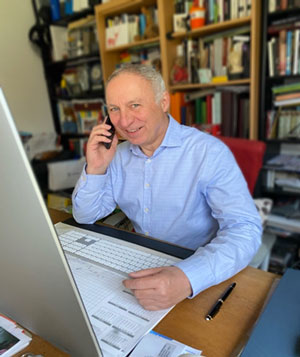 DVN: For the rare lighting experts who don't know you, could you introduce yourself?
Wolfgang Huhn: Sure. Here is my CV in bullet points:
• 1981-1986: Studies in electrical engineering at TU Darmstadt, including lectures and a diploma thesis in lighting technology
• 1987-2000: BMW in Munich as a lighting development engineer, later head of lighting department, project manager electromechanics, head of assembly planning E/E and whole vehicle. 1999 PhD from TU Darmstadt
• 2001-2020: Audi in Ingolstadt, head of lighting and vision systems, temporarily including switches, horns, interior lighting, lighting-related ECUs, and software. Lead engineer for lighting and vision for the Volkswagen Group.
• 2021: DVN Senior Adviser, and I continue to work in the GTB.
DVN: We published last month an important report about Audi and Lighting where we presented the wonderful achievements of these last two decades. What are the achievements you are the most proud of?
Wolfgang Huhn: In Audi, I had always the opportunity to present our ideas for innovations directly to the board. This caused fast and final decisions as well as an ultra high pressure to deliver. We started 2004 to introduce stylish LED DRLs and rear lamps nobody has seen before. Every new car launch brought some lighting surprises to our customers (and competitors). We changed lighting from a commodity into a high-tech jewel. Finally this changed the whole industry.
The highlight was 2011 when I received the Professor Ferdinand Porsche Award from the University of Vienna together with Kamislav Fadel, and the Man of the Decade award from DVN. I am fully aware that I was representatively awarded for the Audi lighting team including Design, Electronic, purchase and the famous prototype workshop.
Later we followed the strategy to substitute mechanics by software. Examples are the matrix beam, greeting animations (great with OLED) and lighting functions on demand. Everything was possible only together with our suppliers—the headlamp and rear lamp makers, the light source and component industry, as well as the universities, the GTB, and regulatory authorities who helped us to realise innovations for brain and heart.
DVN: You are now working with a DVN team of experts in lighting, ADAS, and interior. What are the new fields you think DVN should cover, considering your great experience with two premium car brands?
Wolfgang Huhn: First I need to understand DVN completely. This means learning about DVN's strengthes and weaknesses. Then we will talk about improvement of the existing branches as well as the chances and risks of new fields (…uhh, I hear myself talking like an automotive consultant!). Most important is communication; DVN shall offer and organise communication, now and in future.
DVN: You have done a great job with Geoff Draper in GTB; will you carry on working in the strategic group you helped build?
Wolfgang Huhn: Geoff modernised the GTB during his presidency. Among many other things he installed a professional secretary general and he founded the Working Group Strategy (WG-S) in 2016. I was elected chairman of the WG-S, and reëlected some weeks ago. The GTB is now able to initiate international research to prove the influence of technical innovations on traffic safety. This independent research results are the base for the development of new regulations. I like to continue being part of the WG-S, because it is an honour and a pleasure to work at the forefront of regulations for innovations and the general improvement of the GTB.
DVN: You said in your guest editorial this week "Let's shape together the future of lighting". What do you mean; what does this look like to you?
Wolfgang Huhn: Today's lighting world is full of target conflicts. Low headlamp size vs. performance; large and homogenous DRLs and rear lamps vs. energy consumption and weight; innovations vs. cost and many more. We have to find solutions, compromises, and limits together. DVN can help with examples, advice, and as a communication platform where and when it's needed.
DVN: The most important innovation of the last decade, in terms of night-driving safety, is ADB. How will we convince regulators, marketers, and car buyers to allow, promote, buy, and eventually require it?
Wolfgang Huhn: In one of his fantastic lectures my colleague Michael Hamm compared the performance of ADB with a very good low beam headlamp using the NCAP 5 star rating system. The ADB result was 13 stars. Whoever has experienced ADB does not want to go back to low beam. This means drivers, marketing guys, and regulators need to experience ADB. It is one of our tasks to organise it.
DVN: Interior is a major differentiator for premium cars. Interior lighting is part of it. How do you reckon lighting is changing the perception of car interiors?
Wolfgang Huhn: Interior lighting is a difficult case. Very short distances between light source and passenger show every inhomogeneity and every colour shift very prominently, and causes glare easily. This means deep engineering knowledge and highest precision is the base of a good result. Fact is, a premium car interior must have a premium lighting including individually controllable RGB lines, trim illumination, and dynamic greeting effects, as well as a roof lighting which enlarges the headroom perception. I personally like the interior lighting with additional functions such as the red flashing light guide in the door trim in case of danger during door opening. In future dynamic light strips probably can help to avoid moving sickness in automated cars, especially when sitting backwards, reading, or watching a movie. Additional research seems to be necessary. Interior lighting is an interesting field full of new possibilities.