Since the formation of Cree Research in 1987, the makers and shakers who eventually became Cree have been producing groundbreaking LED technology and cutting-edge work in silicon carbide for power and RF (radio frequency) applications. In a little over three decades' time, Cree have grown from a modest group of researchers in a campus laboratory aiming to leverage the properties of SiC (silicon carbide) for commercial uses to a global presence with 5,300 employees and 3,700 patents so far. As part of that growth, they've established themselves as a pioneer in the automotive space with LED technology, as well as in other areas wherein silicon carbide can have a significant impact on performance, such as EV onboard/offboard chargers and inverters. Take a look at some of their milestones:

As an established and prominent manufacturer of automotive-qualified LED dies, Cree extended their efforts in the automotive sector in 2015, eventually collaborating with Valeo to develop new LED vehicle lighting systems.
Last year Valeo and Cree launched the world's first complete HD (high definition) LED array solution for automotive lighting systems, the Valeo PictureBeam Monolithic. As demonstrated in an online video, it offers versatile ADB and road marking capabilities along with high performance low and high beams. It was conceived as a new way to introduce a scalable LED array providing a pixelated and dynamically variable, shapeshifting beam of light. Last December, Valeo won an R&D award for the system.
Cree's Director of Automotive LED Business Development Roland Normand says "The automotive industry is extremely process-driven and requires a lot of effort to maintain and perform against industry standards. While we've developed extensive experience in automotive qualification with LED dies, it has only been in the past few years we've decided to extend our capabilities into delivering automotive-qualified LED components".
Cree's work in the space has led to more modular, smaller and lighter systems able to integrate into more vehicle classes. The new LED array innovation also facilitates scaling from kilopixels to tens of kilopixels. A system integral controller allows pixel-by-pixel control to deliver illumination profiles that can be adjusted based on driver needs and road conditions.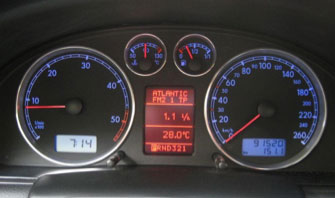 Normand says "For more than two decades, Cree has served as a leading LED die supplier. Our first automotive engagement began in 1995 with the development of the innovative blue-backlit Volkswagen Passat dashboard. We were the first company to commercialize blue LED die in 1989, which made Volkswagen's striking design possible".
In contrast to other solutions, Cree's first-generation LED headlighting solution can provide resolution up to 4 kilopixels for ADB and road marking applications. And they're already at work on a next-generation solution which will be even more scalable.