Arteb was founded in 1934 by Artur Eberhardt in São Paulo. They produced their first OEM lighting equipment in 1959 for VW.
The company is now employing 1200 persons from 3 production plants, Arteb, Artebtech and Sian. These brands have a production capacity of more than 12 million lighting units per year. To support its plants with developments and advanced technologies the company count with its CTA, the Arteb Technological Center. Artebtech, the newest brand, was created for electronic systems, focused with optimized LED solutions.
Arteb is one of the largest vehicle lighting suppliers in Latin America.
Jean-Paul Ravier, in charge of building the report "Lighting in developing countries", asked few questions to Jarbas Enzenberg, Quality and Engineering Director, Egidio Vertamatti, Executive Manager, and Carlos Moura, R&D Coordinator.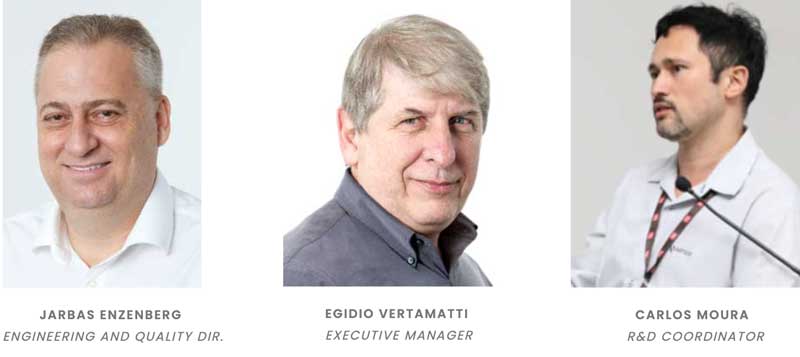 DVN: Could you introduce Arteb, the main shareholders, sales and market share in Brazil, facilities, and people?
Arteb: Along its 86 years, the company has remained as a pioneer supplier of high-quality products, always introducing new technologies. Today the Arteb Group is composed of three brands: Arteb, Artebtech and Sian. Located near to each other, Arteb and Artebtech are in São Paulo States. Sian is in Bahia States.
Among these brands, Arteb is the biggest, having 36000 m² in its development and production structure, which includes a manufacturing area for small components and a Technological Center (CTA). Conceived to be the strategic place for R&D, CTA has an engineering and laboratory team highly equipped with some of the best global market tools. It also has a night drive laboratory, a tunnel with a dark urban scenario where prototypes can be evaluated anytime, without worries about weather, daylight, or season conditions, since it's closed. This feature is unique in Brazil with also its laboratory for product validations, with an accreditation by a Governmental Institute (INMETRO) for a lot of automotive tests, including photometry, colorimetry, vibration and so on.
Artebtech activities, in a 1000 m² area, started in 2013 focused on electronic devices, especially conceived to promote lighting in the new era of embedded electronics. The goal is to produce sustainable solutions, with higher energy efficiency, excellence in automotive standards and best practices.
Sian started in 2002, with 6000 m² and focused to supply Ford Motor Company, with its built area besides this North America carmaker, closer as necessary and convenient from both parts in favor of successful business, something already done to other customers in the past.
DVN: What is your activity for exportation? What do you intend to do in international markets?
Arteb: Historically, we have a long presence in the international market, not only to Latin American but also to EUA, Mexico, South Africa and India. The company is opened to international market and some of its strategies include a Chinese Office and a New Business department. All these actions not only improved our products, to combine more and more competitive costs and high technologies, but also let us closer to more potential customers. Some of our news business during the last years came from such placement. We have some more strategic actions to do for the next years, but we prefer to talk about it in another opportunity, showing cases that today are confidential.
DVN: Which cooperation have you with other set makers? Have you any target for other kinds of cooperation?
Arteb: We had some cooperation in the past, but now we are more concentrated on autonomous growing, incorporating to our structure what is necessary. We are not against cooperation and partnerships, but we try to guarantee our autonomy every time that is possible, especially when new technologies, know-how and intellectual properties are involved. Such vision was on the base of Artebtech creation and it was decisive for our current moment, more prepared than ever for new lighting technologies.
DVN: Can you present some significant product realizations with a short description and photos?
Arteb: See below some achievements.
In front, beyond DRL and position lamp with LED, Arteb has explored the technology in some more functions as low and high beam.
In rear, some signaling devices with optimized illuminating surface, including different optic strategies, more components with specific materials and variable finishing.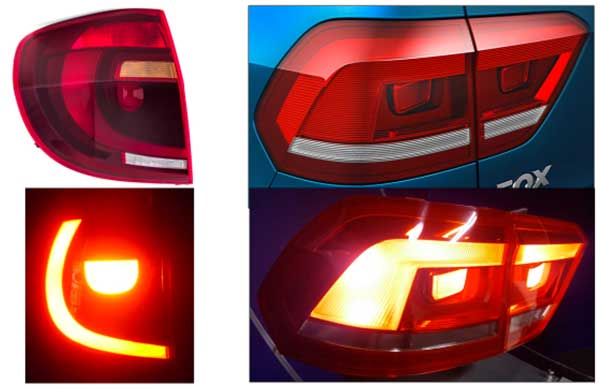 Considering that LED usage, especially high-power models for headlamps with complex electronic drivers, only now is expanding in Brazil, unfortunately some of our best examples can't be shown yet, since they are under development.
DVN: What is the level of penetration of LEDs currently in Brazil for signal and for main beams? What is your prediction for the future?
Arteb: Traditionally Brazilian market use to concentrate its LED usage on signaling devices, especially DRLs, front and rear position lamps. So, the LED penetration is not deep as we expected when Artebtech started its activities (2013), anyway this penetration is growing faster for the last 2 years, based on our current developments.
Along the last years our expectation was even more optimistic, especially due to the mandatory DRL use for vehicles produced from 2023. But this year, due to the COVID-19 impact, such implementation was reviewed and gained one year more to be implemented (2024). Anyway, some customers remained considering DRL on its future releases, so the impact in fact exists but can vary according to each case, since there are suppliers more concentrated in signaling devices than others.
Our prediction for the future remains optimistic, because national law will turn mandatory not only DRL but also lateral turn signal lamp (ECE category 5 or 6) and emergency braking signalling devices, all of them works better with LEDs and can cover a huge number of cars.
DVN: How are you developing the electronics needed for new generation of lighting products?
Arteb: Almost 10 years ago we built Artebtech, this was our first step in such direction. We spent last years enriching Artebtech development structure, including high-level tools such as softwares, last-generation machines for assembly components and prototype building, training for the engineering team and so on.
Part of our strategies, to keep the engineering team updated, includes participation in automotive fairs and congresses, deep analysis covering recent embedded systems publications (standards, laws and papers), benchmarking, prototypes building and tests. Beside such involvement in technological aspects, we always try to balance it with the commercial factors by developing and validating strategic components suppliers. Our goal on it is to increase our competitive force, blending new technologies with attractive costs.
DVN: How do you see the future of lighting in Brazil and the future of Arteb?
Arteb: We see a great future of lighting in Brazil, our national laws and standards are designing a safer market each year. Government programs, such as Route 2030, clearly indicate the country's compromise with sustainable and safer progress. Besides this promising horizon, Arteb easily sees itself as an active player for the next years, strong enough to be a smart option for all carmakers. Some of our efforts to say that and to face challenges in an optimistic view include, beyond all we mentioned above, our newer strategies in commercial and marketing, with an updated website and a stronger presence on social media channels and automotive events. Such movements allowed a better relationship with OEM and aftermarket customers, also these improvements are continuing to help with a newer brand perception, something essential for a long-living presence in such a demanding market.
The future of lighting in Brazil is rich in possibilities and Arteb certainly will be part of it, especially because we were working and building this same market for the last 86 years. Above all, since tradition and innovation is in our DNA, we are equally prepared to face challenges, promote solutions and seize opportunities.
More of the interview will be available next month in the report "Lighting in developing countries" which will be published next month.