During my visit to Reutlingen, Marelli Automotive Lighting presented their developments on laser technologies, ADB and road marking with digital light, standard modules, electronics, and sensors. Today I present this summary of what they showed me, as well as my impressions during the night drive demonstrations they kindly arranged for me.
Laser
After the first generation launched in 2014, and the second generation last year on multiple BMWs and the Audi A5, Marelli's AL unit are working with Nichia on a new generation of laser lighting.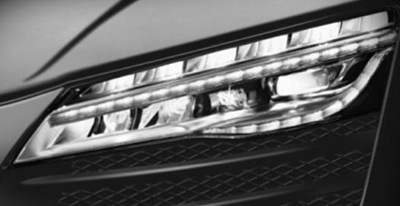 As explained in my last article on night drives with the BMW 5 Series, laser technology is not only used to increase the visibility distance in high beam, but also to make the ADB, with the laser spot being located at the vertical cutoff to increase the visibility close to cars ahead.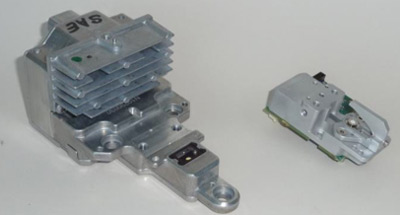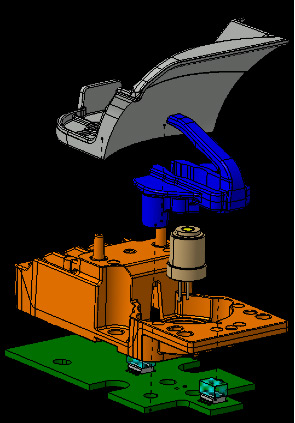 In the next generation to be launched with Nichia, there are now two laser sources illuminating one converter and producing twice the luminous flux: now about 800 lumens (hot). This will boost the laser performance to a new level with larger volume.

Great progress has been made over about five years on laser technology. An onboard electrical safety system integrated on the laser converter has, in the meantime, been standardised. The main challenge is now to drive down the system cost so that it is competitive with LED systems accounting not only for technology, but also for the volume.
High resolution pixel beam
For high resolution headlamp technology, Marelli Automotive Lighting focus their development efforts on DMD technology and LED and micro-LED arrays. For both technologies the high resolution module is combined with a supporting conventional background matrix system with 12 to 84 segments.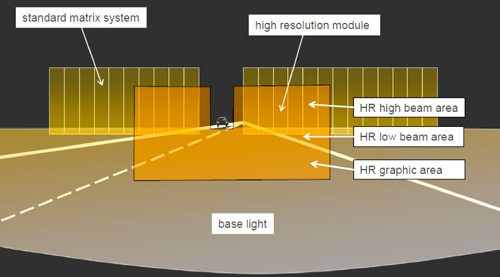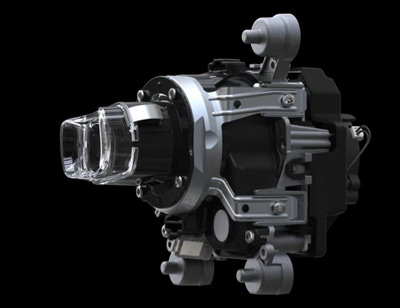 The main benefits of DMD technology are:
• Improved resolution of the ADB.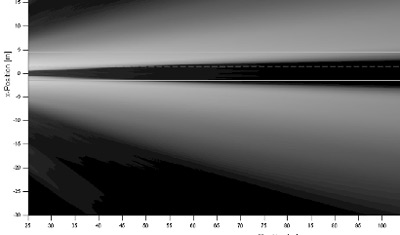 • New lighting functions enabled by high resolution, such as vehicle-width guidelines projected forward on the road (for construction zones, etc), lane departure warning, distance warning, symbols (ice, speed), etc. A research study shows that nighttime traffic safety is significantly supported by guiding projections of this nature.
• Possibility of high-precision dynamic bending light.
• Flexible cutoff line shaping (country light, motorway light, town light, etc) without moving parts.
AL are on the front line in this technology, launching their first-generation DMD module in the Mercedes S-class Maybach, then in the Audi e-tron Sportback.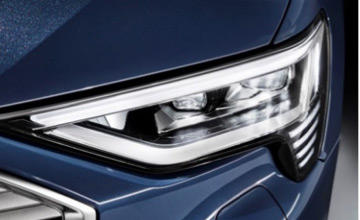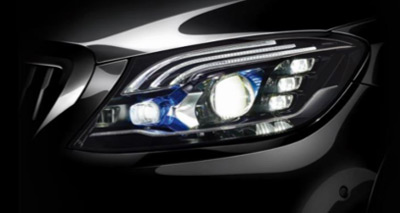 The second generation design with a lower cost will equip several other cars currently under series development. Now, the two big challenges are about the definition of standardised warning and information symbols, and the regulations allowing driver assisting light patterns on the road with clear boundary conditions and minimum constraints.
LED and MicroLED Arrays
The first generation of microLED light sources was developed by Osram with 1,024 pixels (1 kilopixel).
More such sources are coming from Nichia, Osram, and Lumileds. These have much smaller pixels and much greater resolution: around 20 kilopixels on about 40 mm2, compared to 1 kilopixel on 16 mm2 from the first-generation units. The light beam of the optical module will have a pitch resolution of about 0.1° and a rectangular shape. Production start is expected in 2022. The total light combined with this gen-2 setup and an LED bifunction module with segmented high beam is a good way to optimise cost, quantity of light, and high resolution for the ADB, with flexible low beam and road projections.
LED Modules
AL are using several standard modules and developing more. Their module library includes:
• e-Light and s-Light
The s-Light with ADB and 12 segments equips the Audi e-tron sportback together with digital light module h-Digi®.
The s-Light also equips the Fiat 500 and the Škoda Fabia.
• k-Light
AL also have developed the k-Light module, with a rectangular lens of 35 mm, at lower cost. The k-Light only uses 7 parts versus 11 parts with the s-Light SOP is expected in 2022 from plants in China, Mexico, and Czechia.
• m-Light
This is an ADB module with a lens height of 35 mm, delivering ADB with one or two rows, using 12 to 36 segments. Production started this year. This module can be combined with the low beam s-Light module. Luminous flux is between 650 and 800 lm with a 1.5° resolution in the central region of the beam.
• d-Light
d-Light is an ADB module with a very slim lens of only 30 mm height × 100 mm width. The module delivers 950 lumens with a hot spot of 81,250 cd, and is configurable from 16 to 24 segments. With proper styling, the lens height can be reduced to 25 mm. SOP is planned for 2021.
With these modules, AL have a range allowing to achieve most automaker specifications for performance, volume, weight, functionality, and cost.
Electronics innovations
Many new features are demanded: software-based light distributions, strong trend towards animations, and downloadable and customisable features. It makes pressure on R&D efforts for dynamic features and more than ever, coöperation is required amongst optical, electronics, and software experts. That's the new approach required to meet the future requirements for E/E architecture and to reduce cost for lighting electronics.
The key success factor is to enable optical experts to easily tune digital light features without the need of extensive software expertise.
This new reality leads AL to develop an ECU-free system: no ECU to drive LED light functions, and simplified electronics to reduce cost and wiring complexity. For headlamps, architecture studies are ongoing with automakers and semiconductor suppliers; SOPs are scheduled from 2023.
Sensors
In parallel with new innovations on the lighting side, Marelli Automotive Lighting also work on solutions to integrate sensors for ADAS in headlamps and rear lamps. Main sensors planned are lidar, radar, and cameras—as already shown at CES 2019 where AL won a CES Innovation Award for their Smart Corner concept. As the lidar sensors will be in future one of the main sensors for highly automated vehicles, AL have also been working to develop their own range of them, based on joined activities with Xenomatix. Here's a look at what they've got going on, first for front applications:
…and then for rear-of-car applications:
Light Hall
The Light Hall is the name given to the new building in Reutlingen, housing a light tunnel of more than 60 × 12 metres for static headlamp investigations and demonstrations.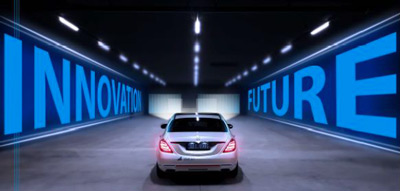 Lights from the Audi A4 and e-tron, Mercedes Maybach with DMD, and Porsche 911 with 84 pixels, show the huge progress being made by the lighting industry—and especially Marelli Automotive Lighting—on light quantity and performance, static and dynamic homogeneity, and functional versatility.
Night drive
Two vehicles with prototype lights were presented. Unfortunately, bad weather prevented an assessment of the light comparable to good-weather night drives with other systems, but on the other hand, inclement weather provides an extra-tough test of headlighting capability.
Very small 2-module system
This was the first time I assessed such thin modules. The two d-Light modules have a height of 30 mm and width of 100 mm, each. One makes the low beam and the other makes the ADB functions. My impressions:
• Good performance of the low beam; surprising for such a thin module, with a good spread and homogeneity.
• The matrix ADB gives a good feeling of high beam. The trees and the walls along the roads are very well seen, but the large ADB shadows interfere with good visibility close to deglared vehicles. Optimisation of the ECU-software control should bring the prototype to an improved performance level.
Lighting with h-Digi® DMD module
One LED projection module is used, plus a DMD module. The bifunctional module delivers the low beam and the ADB matrix light with 12 segments. The h-Digi® delivers light from 4° left to 12° right in the right headlamp, and 12° left to 4° right in the left headlamp, and 2° up to 5° down from both. It also produces the hot spot of the low beam, including the cutoff kink.
The low beam delivers 1,000 lm (including about 200 lm from h-Digi®) with the digital part making bending light, town light, motorway light, and also left/right traffic adjustment. The ADB provides a real feeling of a soft movement, with smaller deglare zones for much better visibility close to the opposite cars. A very interesting point of this night drive was the possibility to achieve several new functions like sign projections.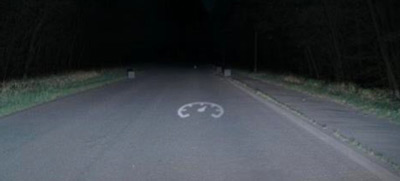 Or information to help and to warn the driver as guiding elements or collision warning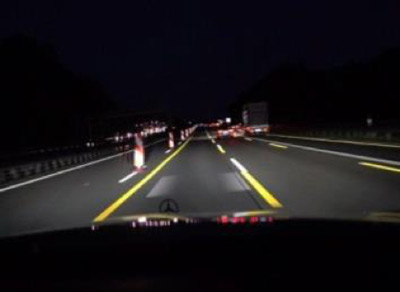 Conclusion of the visit
• Laser technology has earned its place in technical terms, and there's great developmental progress, but questions stand prominently now as to what will be the trend of the cost vs. LED.
• Interesting works on the high resolution pixel beam which will be the greatest needs of the car makers. After introduction of DMD technology, microLED will follow to introduce high resolution technology into further brands and car segments.
• Great achievements in standardised modules, which— considering cost, volume and functionality—will increasingly be used in new vehicle models.
• Interesting strategy of ECU-free system architecture and steady work toward headlamp sensor integration.
• Strong involvement of AL's R&D team to succeed in their developments.