All of us at DVN Interior wish you the best of all the holidays you celebrate, and an enjoyable slide into 2023 (as they say in German). As you start to take a look at your 2023, save the date for the DVN Interior Workshop on 25-26 April at the Pullman Hotel in Köln, Germany. The rubric of the event is Human Centered Interior Technology, andsessions will include Human-Machine Interaction; Smart Surfaces; Safety and Driver Monitoring Systems; Interior Lighting; Comfort and Wellbeing, and Materials and Sustainability. It is a golden opportunity for your company to exhibit your innovations and expertise. We'll bring you more details before long; in the meantime, contact us if you'd like more information, or for early registration.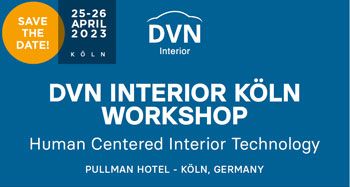 This week's news includes an in-depth article about the creeping spread of smartphone-like automotive interior features and capabilities, with examples from a variety of automakers.
DVN Interior will take a week's break over year's end, and we'll be back on 5 January. Thank you for having spent this past year with us! Let's do it again in '23.