The 25th Automobil Elektronik Kongress (AEK) took place on 16 and 17 November in Stuttgart, because the usual venue in Ludwigsburg (AEK is Well-known under Ludwigsburg-Congress in June every year) was not available, so Mercedes helped the organizers with their Carl Benz Arena. Title of the event was "The Automotive Industry on its Way to the Software-Defined Car".
The AEK is famous because of the high number of executive board speakers presenting their future concepts. Here is the place where collaborations between companies were announced and joint international initiatives were founded e. g. for standardisation and processes. Networking opportunities are legendary. Different to most congresses, many speakers present in German with simultaneous translation. This time lighting had no presentations of its own because there were several last year in the virtual AEK Congress, and there are not many presentation slots available. Lighting is every 2 to 3 years on stage, but always included as an important detail in many presentations.
The following is a collection of remarkable statements out of the top keynotes.
• ZF CEO Schneider says his company are ending all activities concerning the combustion engine. ZF are developing a Silicon Carbide SiC 800V battery module as the next core product. Software (SW) defines Hardware (HW). A big step for a former gear wheel company.
• Mercedes member of the board of management Schäfer announced that the full Mercedes E-Drive system will be developed in-house, cars will be electric, trucks will use H2, and AMG will be electric from 2025 onwards. Next year an EQxx will be presented with more than 1000-km range and a consumption of less than 10 kWh/100km.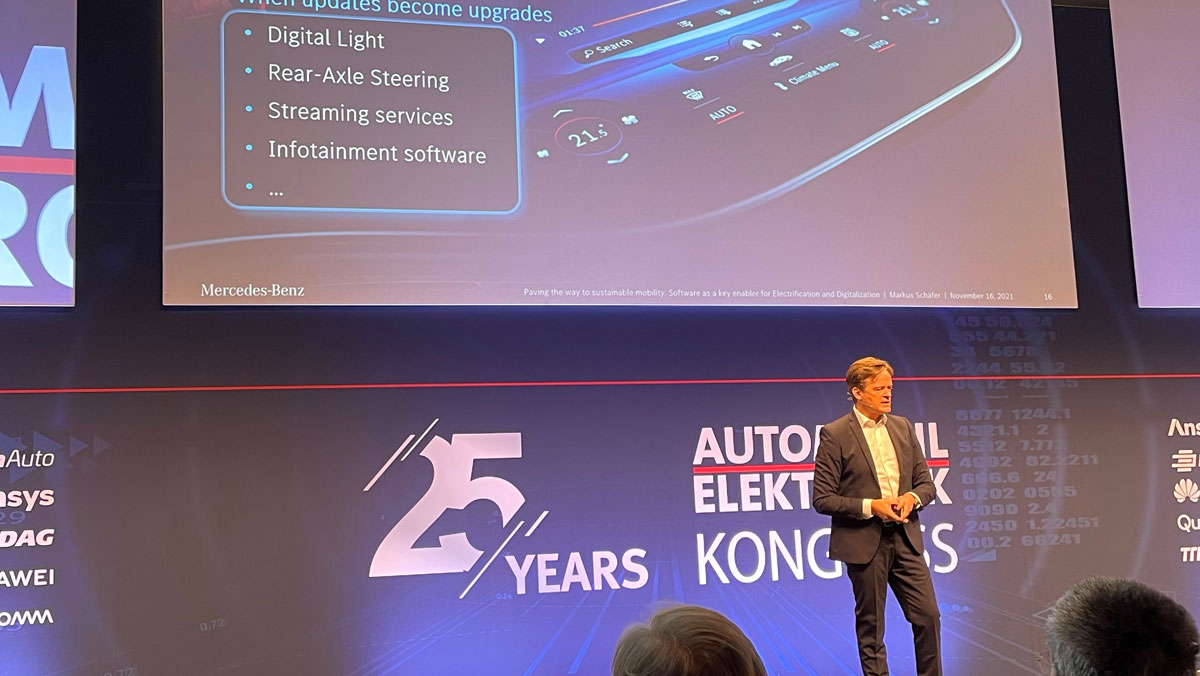 Mercedes are building an in-house operating system, MB OS, on the base of Standard software components. Mercedes' strategy is Digital Luxury which includes interior and exterior lighting.
• BMW CTO Weber described the BMW strategy as Reduced Aesthetics / Sustainable and Circular Thinking. Half of all knobs and switches will disappear from vehicle interiors; the best operation is the one which isn't necessary.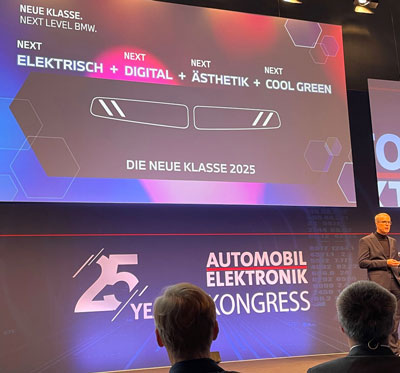 BMW, in 2025 will rework their UI and also their front lighting signature completely. BMW's software developers create customer value and competition differentiating functions only, and for sure there's to be no in-house BMW OS. Weber thinks a software spinoff company makes no sense, because software is the future heart of the automobile.
• Bosch member of the board of management Kröger stated that great software needs great hardware.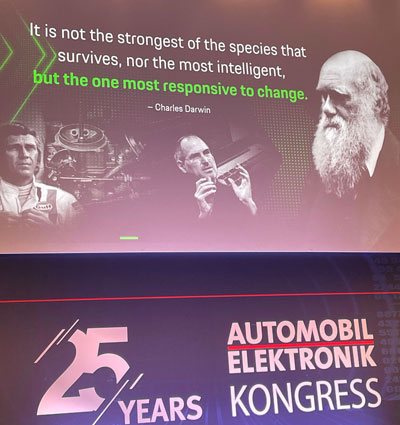 • The necessary in-car computing power in 2025 is twice that of 2021. Zone ECUs, which will support e. g. the lighting system, will trim in-car ECU count by up to 20 per cent. Bosch will offer L4 automated parking in twelve garages—by the end of 2021!
• Infineon CEO Ploss talked about the consequences of mobility as a service. He predicts that hard specifications at the start of a development will be substituted by evolution steps.
• Porsche's EVP Seifert was the first speaker using a video. He talked about Porsche's strategy 2030, which says that the brand is the essential and the concentration to the basics is the key success factor.

The panel discussion followed with Chairman Ricky Hudi, BMW EVP Christoph Grote, Bosch's Harald Kröger, NXP CEO Kurt Sievers, and Aurora CEO Chris Urmson, who recently made USD $1.4bn with the IPO of Aurora. Hudi surprised Urmson during the panel discussion with the question what he would do first, if he had Herbert Diess' job as Volkswagen CEO. "Increase the confidence in people" was a part of Urmson's answer. It was a most interesting panel with inspiring moderation.
Overall, the AEK congress was a fascinating event that gave a clear, sharp glimpse at the future visions of the big guys.
GTB: Together Again for the Very First Time
The GTB Committee of Experts meeting (CE) was the central event of the 15 to 19 November GTB, accompanied by several working group meetings at the Novotel in the center of Berlin. It was a hybrid meeting, with more than half the attendees joining in online, because travelling from Asia is still impossible due to the quarantine after returning. One German GTB delegate joined from his quarantine hotel in China which is mandatory before entering China. The US delegation also joined virtually.
One of the most interesting and pieces of information came from the US delegation. The US President signed the infrastructure bill which contained language directing NHTSA to update headlamp regulations and allow ADB (see details and commentary in last week's DVNewsletter). The US delegation sees this as a kind of slap in NHTSA's face.
Another US item was Docket #NHTSA 2021-6060 dealing with the effects of headlamp age-degradation on photometry.
An interesting detail of the working group front lighting (WGFL) was the discussion of the failure mode of a kilopixel HD high beam. The existing rules say the device has to be switched off if one element fails or a tell-tale has to be displayed in the dashboard. Both are not suitable for HD. Four different solutions were discussed, such as monitoring and failure signalization after photometric values are not ok any more. Other solution suggested were similar to the direction indicator (DI) regulations.
Another discussion was the stabilization time of 30 minutes before the photometric measurements. Several suggestions were discussed like: a stability is given after less than 3 per cent change occurs within 5 minutes, and others.
The points above are just quick spot-checks; a great many topics were discussed and debated. The next GTB CE meeting is planned for June 2022 in Sweden. Let us hope the complete GTB including US and Asia can join in perso.