After the DVN Report we published in January 2020 about lighting in developing countries—mainly India—we are proud to present this week a top notch interview with C.V. Raman, Maruti Suzuki's Executive Director of Engineering, QA & Supply Chain. Maruti Suzuki are the historic leader in passenger cars in India, and command more than half of the market; № 2 Hyundai is far behind with 16 per cent.
It is interesting to know the position of this expert concerning concerning the expectations of the Indian market: car lighting equipment is generally still very basic with incandescent filaments. Nevertheless, LEDs are increasingly present, and advanced lighting technologies—ADB and µLEDs, AEB and other ADAS—are beginning to appear.
Traffic safety in India lags very badly, with death rates several times higher than the best developed countries. Lighting and ADAS functions could strongly help for improvement,
Finally, despite its difficult environment, India also has a strong dynamism. For now they use the lowest-cost solutions, but now they increasingly implement new technologies like LEDs in their increasingly safer and more stylish cars. India's race toward technological progress and prosperity is still sometimes chaotic, but in the coming decades it will certainly be the most important reservoir of automotive growth.
Two other important items:
• ALE: DVN is actively present in the ALE event in China. A DVN exhibition booth will show the offerings and value of DVN. And two DVN team members will give presentations: Geoff Draper, formerly GTB President and now DVN Senior Regulations Adviser; and Wolfgang Huhn, formerly head of lighting development at Audi and now DVN Senior Adviser.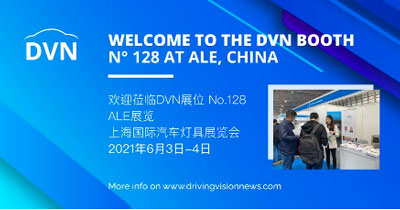 • DVN events: we're organising two events in the second half of the year—our US workshop in Novi, MI, on 21-22 September, and a lidar conference in Frankfurt on 15-16 November. Save the dates, and watch this space for more detail!

Sincerely yours