Carsten Kausch lives in Beijing and runs a start-up company named "Beijing Hanshuoluo Technology Limited" in the field of optical wireless communication. Before his entrepreneurship he worked for Audi as an electronic engineer in Ingolstadt and in Beijing.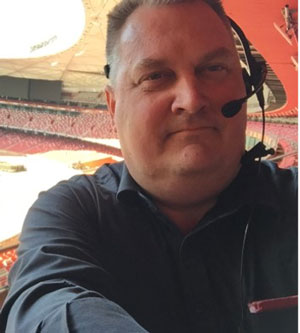 Dipl.-Ing. Carsten Kausch studied at TU Carolo-Wilhelmina zu Braunschweig, major mechanics-dynamics, 20 years AUDI R&D for electronics & engineering services, investment projects.
His name in Chinese "考什 卡斯滕"delivers on www.baidu.com several hits, for example the "autonomous driving device", which covers the full eco system for metropole AVs. He holds 36 patents & filed innovations.
Latest and since 2019: Startup founder with R&D partners in USA, Israel, Saudi Arabia, Ukraine and China. Resident in Beijing, [email protected]
DVN: How could you define your mission of your company?
Carsten Kausch: We sell and develop optical wireless communication (OWC) solutions. The most advanced experts and fathers of the technology "downgrade" military technology to civil use cases. Our OWC developments cover much wider fields than suggested by the buzz word LiFi. There are robust products for under water-, space-, infrastructure-, wearable-, aviation- and vehicle communications by unbound free light. Furthermore, measurement tools and systems for object localization and orientation, material and molecule surface analysis, light spectroscopy can be customized for extreme use cases or smart factories. We oversee the global standards and IP situation for OWC.
DVN: Why should the Automotive lighting industry have interest in OWC?
Carsten Kausch Technological steps secure the leadership of civilisations (keyword China) as well as the automotive industry. Radio frequency and optical wireless communication can be compared to a sail-ship and a steamboat regarding the technological step and market entry.
For the automotive lighting industry, it must feel like a lottery win, because the (only) illuminating light will be the carrier and new media of communication beyond 5G. Inside the vehicle and outside up to long distance communication into space and under water. OWC is License Free & operates ad hoc on low energy levels.
A respectable share of global digitalization businesses can be achieved and is bound to the core knowledge how to read and write the light.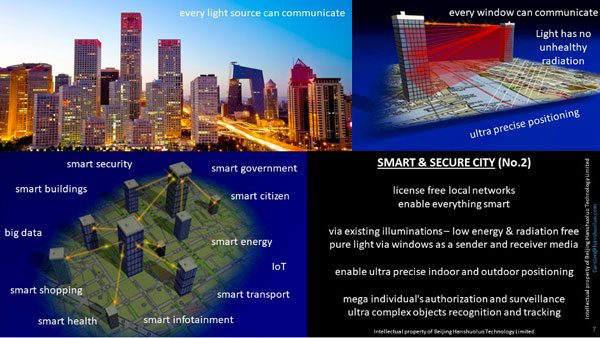 DVN : Why is OWC interesting when 6G arrives?
Carsten Kausch: OWC is already part of the 6G definition in China. It is not only interesting, but also already a fact and a "must have" to be a part of the world's largest automotive market. Technically wise RF is at its physical limit because of the Doppler effect and the limited amount of regulated frequencies and amount of connections in too dense – life relevant – radiation levels. The entry point for automotive communication forced by these 5G limits is in direct short-range communication (DSRC). 5G cannot fulfill automotive DSRC requirements and 6G will only achieve these requirements by hybrid eco systems in combination with OWC. That is why China is leading and standard defining authorities are already aware of these complex metropole requirements. In general bandwidth demanding applications like holographic communication will be supported by OWC.
DVN: What are the chances of OWC? Which disruptive potential does OWC have?
Carsten Kausch: We identified 30 disruptive use cases and 45 products, profitable & ready to develop or adapt with the right investor or customer.
For example high speed cable replacements, Lidar including high speed communication, Hi definition Headsets/VR without cables and without radiation nearby the human brain, end user devices and routers reliable in outdoor / dust / fog / rain environments. Smart factory communication with up to 32.000 devices, real time, mm precise locating and encryption is possible.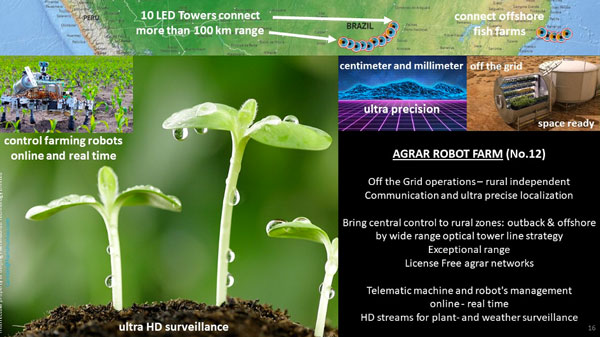 DVN: What are the risks?
Carsten Kausch: The global patent check will require filing of Y-patents in some cases, but we know how to do that legally and sustainably.
DVN: Where is OWC used today? Can you give us examples?
Carsten Kausch: Surely there is the old fashion origin in the military like in ship to ship communication, voice and data communication between divers, stealth communication inside military aircraft, robust vehicles and weapon systems connections, drone steering, automated landing, helicopter close formation flying, sniper finder, etc.
Civil startup solutions can be found in office routers and connections between buildings. These setups are more or less limited by direct sunlight, missing quantum encryption, and chip technology 10 years behind the military.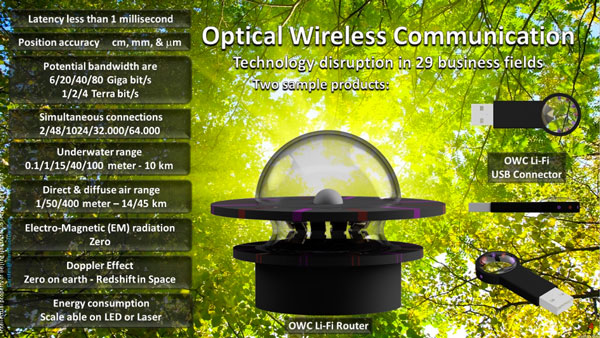 DVN: How can LiFi contribute to traffic safety today and in the future in traffic with AVs?
Carsten Kausch: DSRC with practically zero-latency – multi point adhoc connections – quantum encrypted – EMP safe – combined Lidar & Communication, all these advantages of OWC solve actual problems and save lives. Ranging and positioning within a swarms near-field situation is outstanding compared to other solutions.
Improperly protected smart factory machines and the logistic chains behind them can be protected by OWC. OWC is EMP safe and also free from electromagnetic overlays by illegal jamming or just by too many standard WiFi connections.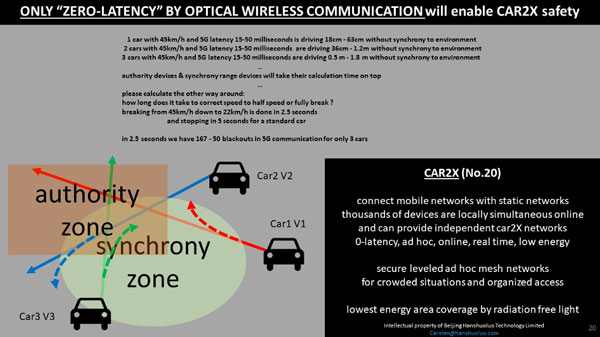 DVN: Isn't LiFi super expensive because of the high frequency modulation?
Carsten Kausch: 10 Terra Bit Rockstar solutions have surely Rockstar prices, as always. BUT exactly to bring down military grade costs and meet acceptable civil cost levels while maintaining beyond 5G qualities is our secondary mission. The high frequency modulation is not necessary at all, costs for an OWC relevant clock chip is about 5 cent. OWC Systems for military use cases are absolutely free of radio emission and are EMP safe. That has some value.
DVN: Do you see any health impact by OWC systems ?
Carsten Kausch: Blue light and ultraviolett light can damage human cells. There are Standards for eye- and skin- safety to regard. We just do not use these frequencies.
Please let me mention at this point that 5G radiation has a proven dangerous impact on insulin, testosterone, adrenalin, melatonin, and calcium metabolizim. That is absolutely not the case with OWC.