Hossein Nafari earned his degrees in mechanical engineering and electrical systems in France, three decades ago. After 10 years at Faurecia, he joined Valeo Lighting and Thermics, taking positions in Europe, South America, China, and Japan. Since 2018, he is Vice President of Lighting, Thermal and Electrical Systems at Mind Electronics. He presented a lecture at the recent DVN Shanghai Workshop, and kindly granted us an exclusive interview.
DVN: What do you retain of this huge experience and these 3 decades of engineering in automobile industry?
Hossein Nafari: First of all I would like to express my thankful thoughts to DVN for the fantastic information/communication platform you offer to us. Regarding some take away from my work experience I would like to start by sharing with you the importance of contact with the R&D and production teams. If a diploma is a proof of academic knowledge, the real expertise and competency are the outcomes from field hardship and efficient collaboration with the teams.
I was lucky to start my job as an R&D engineer which reinforced my product and process related to enthusiasm. And then further on I was naturally oriented to the functions of sales, quality, project management and production. If I surf back to all my working years what I can highlight is to have the privilege to have a nice working environment, respectable company leadership and permanent learning opportunities both in technology and in management. Automotive industry is made of a very demanding culture and we must permanently engage ourselves in challenging targets. To work by passion and not by obligation is a key word that I would like to mention. Lighting system is by far one of the most passionate product lines in automotive and I feel very blessed to be a member of this family.
DVN: Tell us about MIND, do you mind?
H.N.: Mind Electrical Systems has three business units: optoelectronics, thermal systems, and harness systems. There are 10,000 employees, of whom more than 1,600 are engineers.
The lighting division has 4,500 employees including more than 700 engineers in the development activities, especially in innovation and advanced research. We have five lighting plants in China, with a total sales revenue of C¥2.7bn in 2020. Along with the business expansion of the company, new production bases in Chongqing and East China are in preparation. We have three R&D centres in Baoding, Xushui, and Shanghai, and development engineers also based in Europe.
With the mission of comfortable driving, connected world, and illuminated future, Mind Lighting devotes itself in developing trendy, intelligent, green, and safe products to be a company best in class of lighting system and automaker preferred partner. Our focus is on technology and innovation and we aim to be a reliable partner for our customers.
DVN: At the DVN Shanghai Workshop, you gave one of the best lectures. Can you confirm the SOP of 10-kilopixel µLED headlamps in Q1-2022? That was surely one of the great stunners of the workshop.
Yes, we confirm it and we are preparing ourselves for this event. There are still several validations and supply chain related points to optimise. For us the main point to see the birth of this technology is very close future.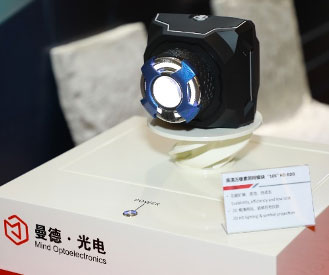 DVN: You said the 10-kilopixel lighting module suits the HD lighting trend. Is it Mind's trend you refer to, or a greater trend in China?

H.N.: We do not have yet any confirmed Chinese trend on pixel implementation, but we believe that in short and mid-term, 10-kilopixel will be the main trend driver both in cost and in market expectation, at least in the coming 4-5 years.

DVN: You forecast 100-kilopixel µLEDS in 2025, by which time a range of resolutions will be fielded, perhaps up to 2-megapixel. Do you think the market will converge on a standard resolution?
H.N.: We are still pending on the regulations status on pixel deployment in the automotive lighting systems. The market requirement (both the automaker and the user of the vehicle) is subject to grow and to become more mature in the coming years. Therefore we believe that there is no absolute answer to your question. Meanwhile we believe that we must propose to the market a high-end solution as well as a more affordable mass produced product.
DVN: You said lighting signatures will become more important and visible with the growth of electric cars. What's the status of Chinese regulation of lighting signatures, logos, grilles, and around the car?
H.N.: As of today, there are no updated rules on this matter and we endeavour to participate and to contribute to the setting up of proposals to the related administrations.
DVN: You proposed an interesting concept to use only one DLP module per car. Do you think this would be acceptable by Chinese regulations?
H.N.: It will be a very cost-efficient proposal as well as providing a satisfactory implementation of new technology for the end user.
The Mind proposal is to use x1 µLED module by car. It is something not crazy, some of the customers are including ideas like that in their Lastenhefts thinking about cost reduction and power consumption.
The Chinese regulation is less conservative than others, so, always that we can guarantee the minimal regulation values for LB & HB with other optical components inside the HL. New functionalities for the safety improvement are welcome. As it can be our proposal, one single HD-module per car for projections and high resolution HB ADB in a reduced symmetrical FOV.
The high technological evolution in China and Asia will be supported by the regulation always that we are talking about new functionalities to improve the safety of the road users.

DVN: At the Shanghai DVN Workshop, Mind exhibited ADB modules, thin headlamps, and large and thin rear lamps. What message did you wish to convey to the 240 attendees visiting your booth?
H.N.: MIND wanted to show to the DVN participants that we are ready to develop and produce all ranges of exterior lighting products. We presented 2 of our mainstream products with SOP last year, Haval H6 RCL, with homogeneous side-to-side Tail. Wey Tank 300 HL was also presented, with good lighting performance using Narrow modules.
We are working on reducing dimensions of the light source both in front and rear lighting. The type, nature and dimensions of the lighting source is in big evolution. This volume optimization will give more style flexibility to the products.
In the other hand, MIND is ready to work in the high range lighting products level. The µLED module 10K mock-up was introduced. An OLED-like RCL prototype was showing the MIND capabilities to understand the thin and floating new trends for RCL's keeping always in mind the cost.
As conclusion, due to the young team behind and the good network in China automotive industry, I can say, MIND is ready to compete in all the exterior lighting ranges in China and Europe.

DVN: With your three decades in the auto industry, what are your thoughts concerning lighting?
H.N.: This is the most fantastic product in the automotive industry. The new technologies and new concepts do not stop to appear constantly since many decades ago. Each time we have the marvelous innovations which appear and light the way to the future. It is both the technology mirror for the automakers in terms of marketing and is an important element in the driving comfort.
DVN: How might you encourage a young engineer to enter the automotive field, especially the lighting industry?
H.N.: Go for it. It is worth investing your enthusiasm on lighting. Permanent technology change, permanent innovative concepts with further mass production. You can experience how our ideas become reality and run on the roads.