The DVN-Interior Smart Interior Conference and Expo will be held online this coming 24 September, providing an ideal opportunity to delve into topics relevant to today's and tomorrow's vehicle interiors—including user experience, design, HMI, lighting, driver assistance systems, audio, and many more.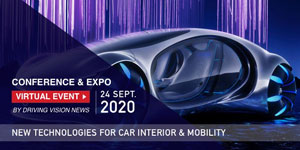 The online workshop will start off with three exceptional presentations from Valeo CTO Geoffrey Bouquot on smart technology for smart interiors; Faurecia CTO Christophe Aufrere on cockpits of the future, and one from Streetscope VP and Mobility Futurist Dave Muyres on future mobility's challenges.
We've built a fantastic roster of presenters and lecturers, exhibitions and opportunities, and we're very excited at the opportunity to try out a bunch of new technology and techniques for virtual gathering. We think it's going to be just as big a success as every previous in-person DVN Workshop. Come join in!
One important part of the online workshop will be the virtual exhibition booths you can book for the opportunity to show your innovative technologies during the online workshop and for a week afterward while the website will stay open. See here for a presentation of what a virtual booth looks like. Register here to attend and see the conference program here.
Sincerely yours