FlexEnable, based in Cambridge, England, has a new glass-free OLCD (organic liquid crystal display) technology to address the need for conformed and shaped displays inside cars. It delivers high-brightness, long lifetime flexible displays that are low cost and scalable to large areas, while also being thin, lightweight and shatterproof.
Most cars today feature glass displays and they are often the only flat surface in the entire vehicle. More and bigger displays mean a need for them to be curved to conform to the contours of the interior. These curved displays will have a function that is more important than just bringing design aesthetic. They will play an important role in improving the user safety and experience too.
For example, for safety, a curved display on the A-pillar of the car can show the driver what is behind the pillar when combined with external cameras and sensors.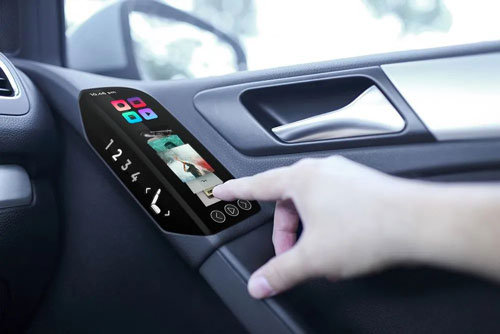 For user experience, HMI has always been driver-centric, and as we gradually transition to more and more vehicle autonomy, we are likely to see the HMI spread out, with a more democratized control of the vehicle across multiple occupants. It will help create smart surfaces around each occupant. This creates as well an opportunity to provide customizable and downloadable elements of HMI. In the future, shared mobility vehicles can be configured and personalized – each passenger will be able to feel like they are using their own vehicle, in the same way people can select their mobile device screen background.
It will also allow car designers to design the cockpit of the car without constraints and deliver automotive HMIs of the future. Non-flat and non-rectangular displays present both new system design challenges and opportunities.