DVN had the chance last month to visit BMW in Munich, spending a fruitful time with Jörg Kälble, Rene Übler, and Johannes Aulbach. Before a night drive, Jörg organized a meeting in a brainstorming room with blackboards everywhere, very comfortable seats, and all provisions to be able to have relaxed conditions for creativity. We talked about BMW strategy on lighting, and on the feedback of BMW about the information received from DVN. A very fruitful time!
Then, two lighting systems were assessed in night drives: the Mini and the 5 Series equipped with ADB and laser.
Mini
Technologies involved in the Mini's lighting system
Full-LED Headlamps with glare-free high beam, done by a matrix Bi-LED module with eight matrix segments, four in each headlamp. The main goal of BMW here is to bring ADB functionality to the Mini customer. The benefit of a glare-free function is not only to shadow out other cars but also to provide further visibility for upcoming curves and dangerous situations; there is a clear safety gain by illuminating this curve in front of the driver.
Performance
Low beam flux: 800 lm
High beam flux: 1,800 lm
Imax = 93,750 cd
Lighting functions
Adaptive low beam distribution
Full high beam Glare-free high beam (called "Selective Beam" by BMW)Cornering lightStatic bending lightCity light
Night drive impressions
All the functions are useful.
• The low beam gives homogeneous luminance in the road and a good spread, like a carpet. Indeed, a pleasant light.
• The high beam is also homogeneous and a great quantity of light for this class of car.
• The ADB gives a feeling of a glare free high beam mainly when we have trees on the sides but has a low efficiency because the shadows are too large; they reduce the effect of good visibility at the immediate side of the car when you overtake or meet another car.
In conclusion, I have seen a very good light in low and high beam, maybe higher than we could expect from such a range. The number of segment is probably too low to have a good ADB.
BMW 5 Series
Technologies involved
This is the latest BMW laser headlamp, which combines a high-resolution glare-free high beam (0.1°) with a high range of visibility by activating the laser in full high beam as well as in glare-free high beam situations.
The laser high beam booster extends the seeing distance by nearly 300m. It's activated only if the car is exceeding 50 km/h.
Performance
Low beam flux: 1,000 lm
(Full) high beam flux: 3,800 lm
(Glare-free) high beam flux: 3,200 lm
Full high beam Imax: 200,000 cd
Glare-free high beam Imax: 175,000 cd
Glare free high beam resolution 0.1°
Because of the 175 kcd intensity in the glare-free high beam distribution we achieve up to 400 m seeing distance with resolution of 0.1° while driving in glare-free mode!

Lighting functions
Adaptive low beam
Full high beam (including high beam laser boost)
Glare-free high beam (BMW "Selective Beam" including high beam laser boost)
Cornering Light
Adaptive bending Light
Predictive bending Light
Roundabout light
City Light
Night drive
In this car we have very efficient low and high beam, comparable with the best lights from Audi or Mercedes-Benz. The ADB uses an interesting concept with a vertical cutoff just at the right side of the opposite car for the right headlamp, a vertical cutoff just at the left side of the opposite car for the left theadlamp, and a laser spot at the position of the vertical cutoff, able to have high level of light just at the right/left side of the car. So the quantity of light is quite great and the system is very efficient.
We took the opportunity to ask questions to Jörg Kälble. After studying mechanical engineering, Jörg Kälble started at BMW Motorrad in 1998 and was involved in the development of the new C1 scooter. From 2009 to 2013 he was group leader for the pre- and function development, simulation and protection of the exterior lighting on all models. After a 5-year excursion into quality work, in August 2018 he assumed overall responsibility for the exterior lighting development.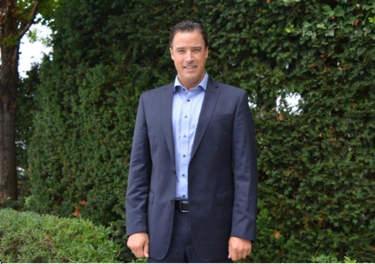 DVN: What is your feedback on the worldwide regulation process? Do you expect good progress with the strategic GTB committee?
J.K.:There is good coöperation in the GTB strategy team, and the initiatives on legislation proposed in connection with HAF have to be continued. New approaches need to be developed for cooperation with the Chinese regulatory authority.
DVN: How do you work with stylists? Are they the kings as in most automakers, or can you influence them?
J.K.: There is a continuous exchange between the designers and lighting designers, in which we show the technical possibilities and the designers represent their ideas. In that sense, I would like to call the coöperation good.

DVN: To make ADB, we have now different technologies including DMD, µLED, LCD, LCoS, laser scanning, and others. What is your vision with these technologies? Do you think one of them will come to dominate?
J.K.: All these techniques are interesting and have their advantages and disadvantages. In the end, the technology will prevail, which offers the customer a tangible added value and for which the customer is willing to pay the corresponding surcharge.

DVN: At ISAL, there were many lectures on road projections. How do you see road projection light in front of head-up displays?
J.K.: BMW has been offering HUD to the customer since 2003 and was thus for a long time the only European automaker to do so. Light projection is an interesting technique, but has against HUD the disadvantage that only at night there is a visibility. As such, light projection is a good way to support HUD functions (for example in hazardous situations) but will not replace them.
 
DVN: BMW presented at ISAL an interesting lecture on dynamic projection with welcoming light. Do you see a future with this function?
J.K.: The exterior lighting has a strong design character, the theme of light production is increasing—especially in Asia—in importance. I see the possibility that we can use functions like these in our cars at some point.

DVN : About the styling differentiation, BMW started with the innovative light rings, which have over the years evolved as a strong familial identifier. What do you think are the main axes of the DRL in the future?
J.K.: BMW was the first automaker who created a light icon with the "Angel Eyes" in the headlight. This can be found in advanced form to today in our cars and is a distinctive identifier. The customer will continue to recognise the BMW icon in the future, but of course we will continue to develop it further.
DVN : After one year at the head of lighting at BMW, what are your broad thoughts on headlamps and rear lamp systems?
J.K.: My vision is that the customer is optimally supported by our exterior light in every driving situation and he feels safe. The symbiosis of technology and design should make each BMW, Mini, and Rolls Royce unique and desirable, and surprise customers with BMW's innovative own ideas.