Along with the advent of LEDs as primary light sources in vehicle lamps, ADB (adaptive driving beam, also called glare-free high beam) is the greatest innovation in decades. ADB gives high-beam seeing with low-beam glare, finally resolving the seeing-versus-glare dilemma which for nearly a century vexed industry, regulators, researchers, and drivers alike.

The latest DVN Report—released today—presents the origins of ADB, describes how we had to wait for electronics and onboard cameras to evolve in the 2000s to a level that would support practical ways to realise this longstanding dream, and the arrival in 2010 of the first mechanical ADB system with an HID light source.

An important chapter is dedicated to the presentation of four beam-shaping concepts: the mechanical system came first, in the VW Touareg, and is still used today with different methods. The matrix beam launched in the 2014 Audi A8 as a solid-state system (no moving parts!) allowing possibility of lighting between shadow zones. Pixel lighting came along first with a complex system in 2016 in the Mercedes E-class with 84 pixels, then with high-resolution using DMD, LCD, and µLED technologies. And scanning systems use MEMS or spinning mirrors.

The next chapter describes the achievements of tier-1 suppliers Marelli Automotive Lighting, Hella, Koito, Stanley, and ZKW with exclusive interviews of their R&D directors; and also of Tier-2 suppliers Lumileds, Nichia, Osram, Texas Instruments, and others arriving in the market.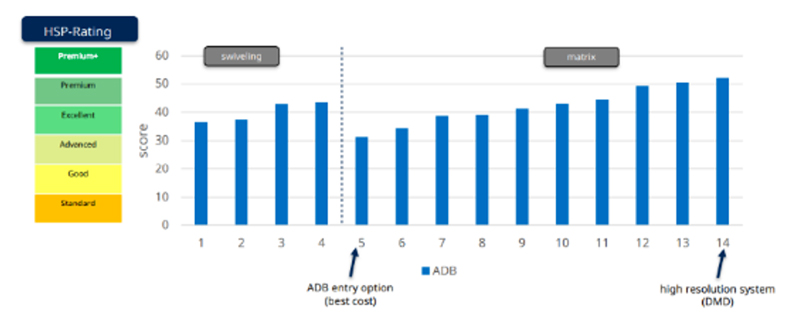 There's a chapter on how to assess the ADB lighting performance—a very tricky thing to do accurately, precisely, and repeatably. There's a detailed description of the method devised by Marelli AL and further developed with Darmstadt University and GTB members until it was precisly reproducable and scientifically accurate, and then discussed in the GTB deliberations. The target is to qualify this ADB rating system as a GTB position paper, though no decision on the matter has yet been taken by GTB.
Then a chapter describes the status of ADB regulations worldwide, as well as the increasingly problematic and frustrating USA exception.
There will be room for each category as the range of car models is large and so the offer with ADB is adapted to the purse of everybody.
Then comes a synthesis, the evaluation of lighting performance in relation with the number of pixels or segments, and analyses the market prevalence of ADB in Europe, Asia, and provides forecasts for the USA.

The last chapter is about the future of ADB. After starting as an option in premium brands, we are now in the second step, with ADB becoming standard fitment in premium cars and an option on increasing numbers of increasingly lower-segment vehicles. This involves increasing volumes, further development, and decreasing prices. In the same chapter, a new projects prognosis to 2026 explains weaknesses and strengths of each of the 11 technologies currently used in ADB systems, Mechanical, 1 segment with dynamic size, swivelling, Matrix up to 10 Segments, Matrix (11 to 84 segments), 5-, 25-, and 100-kilopixel microLED, kilopixel and megapixel DMD, BladeScan, LCD, and MEMS.

To conclude, the report explains how as a very effective safety system which can save lives, ADB has the potential of becoming mandatory in some regions of the world. A lot of research and even more communication is necessary before this could be realised, but in any event it is certain that low/high-beam systems are outdated technology and ADB has a bright future.
The report illustrates how and why ADB is a very effective safety system that can save lives. The report is summarised by this sentence: All described possibilities have one thing in common – ADB has a bright future.
Download your copy today!