The 46th Tokyo Motor Show gave strong visibility to the Japanese automotive supplier industry, of course, and international suppliers were there, as well. We paid close attention to the Japan-based suppliers, through the two big halls where approximately 100 suppliers were presenting their new technologies and the shape of the ecosystem overall. It was surely interesting to see all synergies between the different Toyota family suppliers, for example.
Toyota Boshoku
The car-using public's expectations are rapidly changing, and the Toyota Boshoku is leveraging the technical know-how within the Toyota Group companies to propose an interior space concept based on an autonomous driving scenario. Toyota worked in close collaboration with the likes of Aisin Seiki, Denso, Toyoda Gosei, and Tokai Rika to incorporate numerous advanced systems in its future interior concept called MX191.
Under the theme of "More comfort, more safety, and more enjoyment", the MX191forecasts a new kind of mobility space during autonomous driving. It bristles with advanced technologies like unique seat arrangements, next-generation safety systems integrated into seat and cabin, and an intelligent cabin environment that uplifts occupant status to be refreshed, relaxed, or awake.
The MX191 knows in advance what is needed for the passenger and provides a kind of concierge service in the cabin space when it is needed. When the autonomous era arrives, there will be a huge change in what travelers can do inside the car; conversation, leisure, entertainment, relaxation, work…!
The concierge service starts before boarding the vehicle. When the driver gets ready to depart, he sends the destination information from the house. While still plugged in for charging, the system disinfects cabin air, turns on the HVAC and makes the cabin environment comfortable and fresh.
When the passengers approach the vehicle, the e-glass that was protecting the privacy becomes transparent, and the door opens as the front seats rotate outward to welcome the passengers.
After the passengers are seated and brought into the cabin, the seat belt and buckle reach out forward and up, so that it is easier to grab the belts and buckle up. In autonomous mode, the front seat can move in multiple directions to utilize the entire cabin space through extended adjustment travels. The seat belt is integrated on the seat without depending on a body mounting. There's also a third airbag integrated into the safety belt to ensure passenger safety wherever the seat is located. Integrated thermal systems can be individually controlled for each seat and passenger; a new HMI can control all the comfort related functions in any sitting position, through the control panel and touch pad located on the armrest.
Systems operate by monitoring the vital signs of the occupant's body and providing the appropriate sensory-related stimulations, such as sound, ventilation, vibration, and illumination, to elevate the emotional or comfort state of the occupant. The system helps to maintain the driver's alertness during manual driving, by seeing to the music.
When three people ride together, a larger space can be created to face each other. While the front seat is in rotation, the safety monitoring camera watches the movement and stops when there is something in the path.
With six concierge systems, the MX191 demonstrates a future interior cabin "looking after the space to look after the people", as Toyota puts it.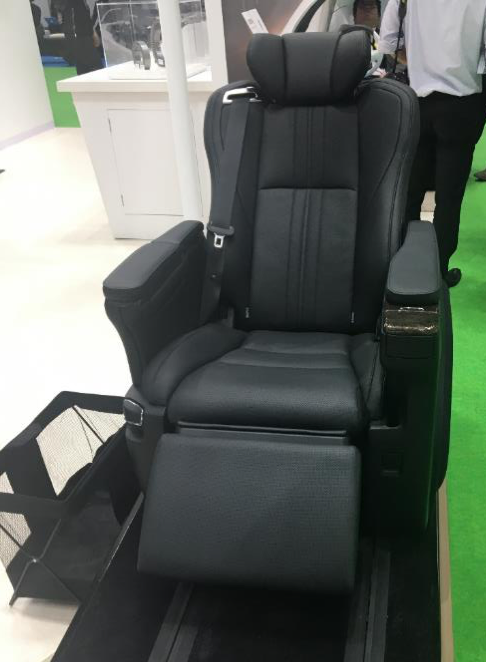 The Executive Lounge Seat in the Toyota Alphard/Vellfire has a power ottoman, is 10 cm wider than a conventional single rear seat, has a built-in belt for best safety no matter what the chair position, and all kinds of other features— stowable tray, in-armrest cupholders, smart phone, file holder. It's wrapped in semi-aniline leather with a superior quality feeling. This very spacious seat is designed to offer the best relaxation and comfort in the industry; in relax positions it supports deep breathing, pushing under diaphragm with lower back massage; or energy massage mid back, to stretch your upper body.
The Toyota LQ interior—it's a car for the upcoming 2020 Olympics—includes seats with functions to keep travelers relaxed and awake, with multiple built-in bladders and air conditioning to help monitor driver state of wellbeing.
The interior has illuminated floor mats that change color as the mode changes from manual driving to autonomous. Kenaf fiber-based material is used in door and pillar trims as a lightweight (-20%), highly rigid, natural selection.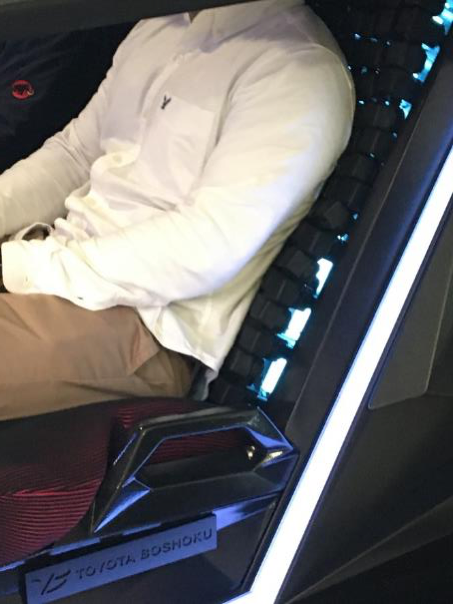 In the Future Expo area, Toyota Boshoku also presented a new comfort technology seat with more than 100 little rubber blocks, each mounted on individual free pivot, to follow perfectly the shape and position of any occupant.
Tokai Rika
Tokai Rika, focused on human interface and safety technologies, showed proposals for the forthcoming mobility society through a future cockpit mockup and some of their latest products.
Their future cockpit mockup demonstrated a UX-centered interactive interface between people and mobility, realized through sensory communication. It includes an armrest-integrated touch pad, to ensure stable operation while driving and convenience in various situations.
The safety concept is built around an automatically adjustable seat belt, through motors to achieve a better fitting, and ensures safety through notifications and warnings to occupants.
Personalization comes by dint of a door entry image recognition system combining smartphone key technology with image recognition. It also supports smooth entry into the vehicle by allowing users to open the door using gestures.
Toyoda Gosei
TG specializes in rubber and plastics automotive parts including sealing, ducts, instrument and door panel components, consoles, and safety systems, airbags (front, side, knee, cushion, curtain,) and steering wheels with built-in airbags.
In the field of CASE Technologies, Toyoda Gosei's strategy is to provide new mobility modular products which combine electronics (sensors) and safety technologies with plastic molding and decorative technology; such as e-Rubber, a next-generation rubber that moves with electricity.
A next-generation safety system was presented with airbags integrated into seats to accommodate the more diverse occupant postures that are expected with autonomous driving. These seats equipped with these airbags are the ones equipping MX 191 concept of Toyota Boshoku.
There was a steering wheel module demonstrator with human machine interface functions added for coordinated vehicle operations between humans and systems. Driver monitoring functions sense the condition of the driver with cameras and sensors, and information functions convey information with light and vibration. This operation is achieved through linkage with the steering systems of Jtekt.
Flesby III is an interior and exterior concept model of compact mobility for around the year 2030. It could be compared to a Renault Twizy. By combining a soft body achieved with rubber and plastics technology with artificial intelligence, Flesby communicates through touch and light on the whole interior surface, within the reach of the driver.
This exterior concept includes a safety function that absorbs shocks in the event of contact with a pedestrian, and an energy-saving function that optimizes the vehicle shape according to the driving situation.
The interior concept has a "first class" function that creates a feeling of calmness with a softly enveloping sheet and LED lighting that changes color depending on the scene.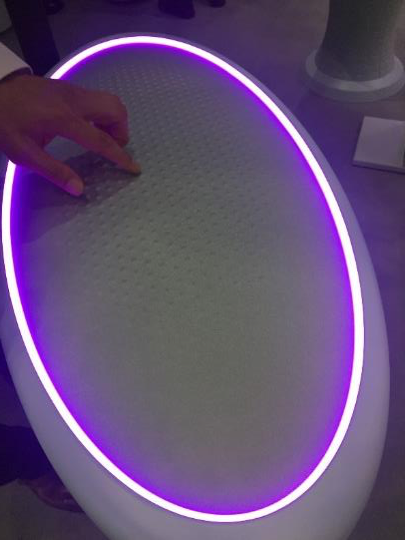 This is a haptic technology that simulates various tactile sensations using the vibration of e-Rubber, a next-generation rubber that expands and contracts with electricity.
Jtekt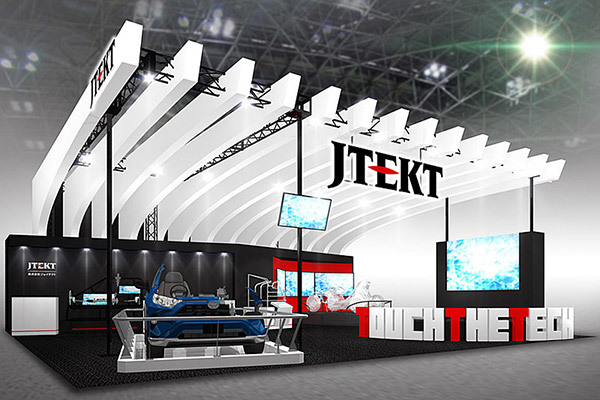 Jtekt came 10 years ago as the result of a merger between Koyo Seiko and Toyoda Machine Worksto manufacture and sell steering systems, driveline components, bearings, machine tools, electronic control devices, home accessory equipment.
The collaborative technologies Jtekt has been developing—such as steer-by-wire and in-wheel motors—were presented in a fuel-cell vehicle simulator with retractable steering column module strongly pointing at high-level autonomous driving. Toyoda Gosei and Jtekt designed the cockpit concept as a forecast of 2030's vehicles leveraging the companies' strengths. Based on this concept, Jtekt proposes future mobility with left and right independent steer-by-wire and other features that augment the safety, comfort, and efficiency of tomorrow's reimagined automobiles.
Denso
Denso is an auto parts conglomerate partly owned by Toyota. They make a wide array of components for conventional and hybrid vehicle powertrains, climate control systems, instrument clusters, airbag systems, pre-crash radar systems, rotating electrics, and ignition parts. Denso also develops and manufactures non-automotive components, such as household heating equipment and industrial robots.
For this year's show, Denso focused on solutions for security, energy, and the connected-car future to support its show theme of "Implementing Capabilities to Create a Future Transportation Society." In the Denso Urban Moves connected-car simulator, visitors experienced the promise of convenience and fun of life in three scenarios: travel, business, and everyday life. Moreover, as part of the effort to achieve a safe society without traffic accidents, Denso showed technologies and products they're developing to bring new levels of safety for more conventional new cars, and for vehicles already on the road.
The booth featured a space with only 1 lux of light, that is "moonlight darkness," where visitors could try out Denso's image sensors and millimeter-wave radars using projections and minicars.
Aisin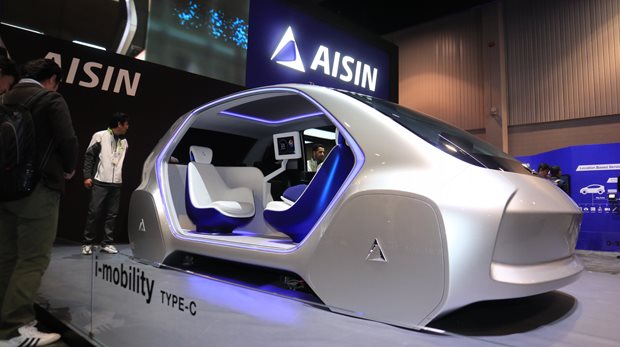 Aisin Seiki is another conglomerate partly owned by Toyota. They supply engine, drivetrain, body and chassis, and other parts for major automakers. The Aisin booth presented the supplier's historical and present achievements.
Central to the Aisin display was the "i-mobility Type-C" (Future) equipped with technologies and services that meet various user needs and driving conditions in the new mobility society, and the "i-mobility Type-T" (Present) with an extensive suite of of innovations in the powertrain, chassis, safety systems, body, electronics, and interior.
Visitors scrutinizing the Type-C could view a demonstration of the concept's hospitality for comfortable movement, including opening and closing doors and adjusting seats according to movements and driver and passenger situations, and reminding the driver and passengers of items left in the car.
TS Tech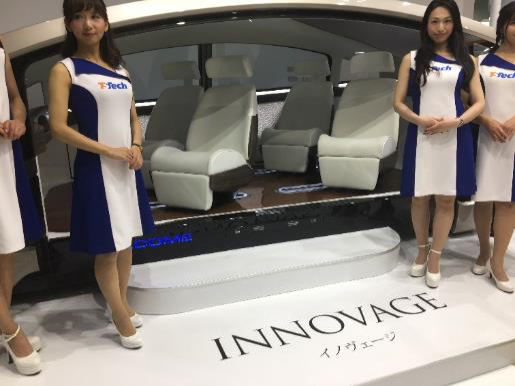 TS Tech is a Honda family supplier. They presented what they called a "space", a concept focused on a future car interior to transport people with an experience presented as being beyond comfort. Named Innovage, it included a 4-seat system catering for diverse scenarios including easy ingress and egress (retractable steering wheel), relaxing, communicating, and automatic seat adjustment based on occupant posture. Respiration and heart rate sensors monitor the driver's wellbeing, while footrests alleviate cramping and massaging seats prevent back pain.
TS Tech displayed its Aisareru® ("be loved") seat, bristling with internet-connected sensors to provide new forms of entertainment by using the seat as a controller that senses the movements of an occupant, and making the link with apps on a smartphone or tablet, app which could be sports-, healthcare-, or event-related, for example.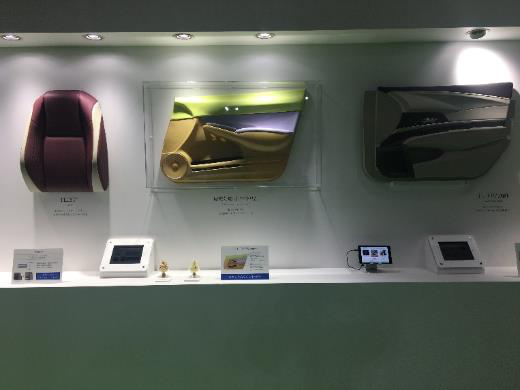 TS Tech also showed its high-performance seat system on the new Honda Gold Wing motorcycle, which adjust its firmness based on rider's physique to disperse pressure, and includes ventilation and heating in accord with ambient temperature.
Marelli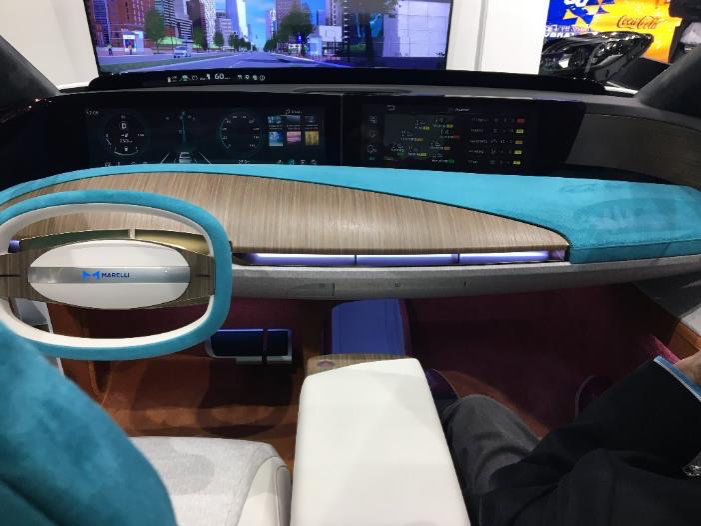 Marelli is a new global Tier 1 automotive supplier created in May 2019 when Magneti Marelli was spun off from FCA and merged with Japanese parts maker Calsonic Kansei, partly owned historically by Nissan. The Marelli booth combined the synergies of the merged companies into five technology areas that will introduce products and services: interior experience, autonomous driving, connected systems, electrification and green technology.
The interior experience area presented the "Human-Max Cabin" concept bringing together interior fittings, electronics, and air conditioning to create a comfortable, personalized space.
Features of interest included eye and temperature tracking, integrated in the mirror, armrest used as a mouse pad, driving info on an upper transverse screen, with long distance focus, and light pass-through signals on the instrument panel to keep track of side obstacles, cyclists, and pedestrians.
Imasen Electric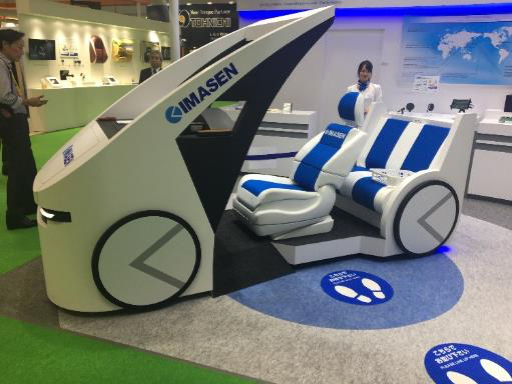 Imasen, based in Japan's Aichi prefecture, presented its whole product portfolio—including lamps, relays, horns, sensors, and seat mechanisms. The seating demonstration showed off Imasen's range of expertise in making seats that recline, slide, adjust height, and remember various drivers' positional preferences. The presentation was organized around a 3-seater demo car interior.
Delta Kogyo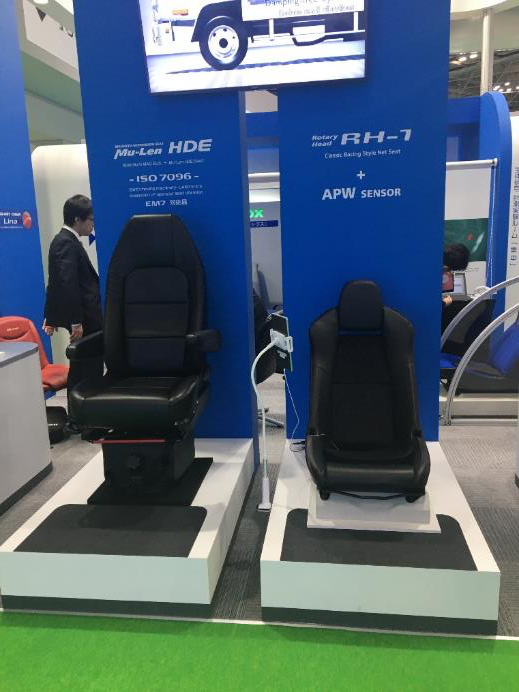 Delta Kogyo, a seat, seat frame, and seat mechanism supplier based in Hiroshima near their primary customer Mazda, showed off its "Magneto-spring suspension" seat unit, wherein vibration is controlled with very short strokes (up to 4 or 8 cm, depending on model and direction) by a system incorporating positive and negative magnets and metal springs. Adjustment is possible to suit the level of vibration to be absorbed. Lateral suspension strokes are based on the Skyhook theory, similar to zero-gravity seats. It improves comfort by reducing movement of the occupant's upper body.
Also, on display: the company's work on APW (aortic pulse wave) technologies, which can detect the vibrations coming from the cardiovascular system to determine the level of attention and stress of drivers during driving. The device consists of an integrated seat cover with microphones and sensors that record the heartbeat and blood pressure. So far this technology is calibrated to the biorhythm of Japanese people, and Delta Kogyo is working on testing it in a European context.
Faurecia Clarion Electronics
Last March, Japanese supplier Clarion became a wholly-owned company of Faurecia. The new Business Group, Faurecia Clarion Electronics, combines Clarion with Faurecia's previous acquisitions of Parrot Automotive and Coagent Electronics.

The spun-together company is working to become a global leader in cockpit electronics and low-speed ADAS, and Faurecia Clarion showed progress toward that goal with the array of technologies on display at the show:
Connected Premium Sound: Automatic understanding of the occupant's position and optimization of their sound environment by combining digital technologies and acoustic solutions.
Autonomous pickup: Using an app, a user remotely summons the car. The driverless vehicle uses a map (previously autonomously created while parking) to recalculate its route and uses fusion of cameras and sensors together with detection software to monitor the driving environment and avoid obstacles on its way to pick up the driver.
Quad View HMI: a multi-view HMI interface that eliminates confusing menu structures and gives more flexibility over selecting and managing in-vehicle features. It allows users to bookmark and organize their most frequently used apps or services into an easy-to- access series of options on the top of the display.
Panasonic
Within "Future Expo", the introduction to the Tokyo Olympics 2020 and to depict the future life, Panasonic is exhibiting an interior demo-car "Space L" by Panasonic. Inside the car, windows and ceilings can be used to enjoy video and sound as an 8K monitor gives people a sense of reality.
"The concept is a proposal for future cabin space and new value around 2030 in the future. When mobility style becomes automatic driving, the way people move and spending space in the cabin is changing. We will propose, for example, space as living room like home, room for relaxing, Movie Theater and place for enjoying with a friend," said Panasonic Automotive CTO and VP of Engineering Naoki Usui.
Seat and space are temperature- and humidity-controlled automatically at the individual-traveller level. In addition, the 180° rotating front seats have a computer and a video phone that can be used in a business situation.
Also on display: a mist jet machine for cooling off without getting wet, presented as a kind of public shower; Panasonic's Kenta Yamada called it a "countermeasure against the heat of summer in Japan…not only for next year's Olympics and Paralympics but also for a large-scale event. I hope people in the world will experience this Japanese technology and feel the coolness".
Yazaki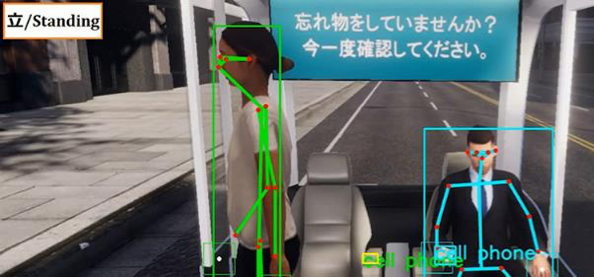 Yazaki is introducing a vision of a new mobility society built around its current technologies for the future. Their booth focused on EEDDS (Electrical / Electronic Distribution & Display System) and data solutions, a wire harness internally connecting in the vehicle, HMI connecting vehicles and people, and data technologies connecting vehicles to a society.
Yazaki proposed an autonomous-driving electric vehicle equipped with a safe, efficient power supply system and secure high-speed communication system, together with a power supply and communication infrastructure system that can be used with various cabins to provide diverse and convenient services including their Cockpit interface Concept, with adjustable display position of HUD and meter meeting the driver's gaze and face angle, judging driver's conditions, giving warning, and confirming safety.

At autonomous driving level 2 to 3 mixed manual driving and automated driving, information that ensures safety, security, and comfort can be provided. During manual driving, the system supports safety by augmenting the driver's situational awareness. During automated driving, it caters for new ways to spend a time in a vehicle, mainly with entertainment. When switching between manual and autonomous driving, it provides the needed information so the driver can take on the driving task quickly and efficiently.
The supplier showed their "Watch-Over System" that provides safety and security to passengers and reduces the burden of management operators by analyzing motions of the occupants in ride-share cars driving autonomously at L4 or above. To prevent problems in the car, such as leaving belongings, oversleeping, and tripping, the human skeleton is simulated and objects are recognized with deep learning. The dynamic links between the human skeleton and objects is judged with machine learning and a rule base, and appropriate notification is automatically given to the occupants according to the situation.
Nissha
Nissha is a multi-industry supplier of things like in-mold decoration (IMD), in-mold electronics (IME), and touch sensors. IMD technology uses a film which allows curved parts to get decorative and functional layers on product surface. IME is a module product which integrates touch sensors, light source heater, antenna, and suchlike into a plastic panel.