Dioptic work to smash the challenges of lidar manufacturing and development across the whole development and supply chain. Their expertise portfolio includes conceptual and optical design of new systems, alignment systems for manufacturing, inspection systems for individual components, and end-of-line inspections. Dioptic are presently developing beam-forming optics and fast lenses with a large field of view to meet customers emerging needs.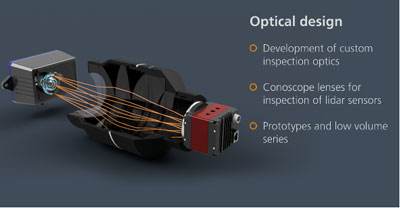 Lidar component and system testing
The quality of lidar systems is the key issue for the successful launch into mass production. In this field, quality comprises factors such as:

• Sensor design, which significantly influences susceptibility to manufacturing tolerances;
• Component consistency; each and every component must meet the given specifications;

• Precise alignment of the individual parts must be guaranteed during sensor assembly, and

• The end of line test ensures that only those systems satisfying the strict requirements are released to market.

Dioptic develop inspection and alignment systems for the latest generation of lidar sensors with high inspection reliability, a large production yield, and product quality boosting the reliability of sensor systems—which will pave the way for more driving comfort and more safety in public transport.
The manufacturing of sensors generally requires a controlled alignment of individual optical components with respect to each other. Dioptic's broad and deep expertise lets them implement assembly systems with optimal coöperation of sensor technology and actuating elements for automated assembly.