Dajac are an engineering company, specialising for two decades now in vehicle lighting alignment and validation. Their client list includes Valeo, Flex-N-Gate, Varroc, Hyundai, Myotek and more. Here we look at some of their products and talk with CEO David Novak.
Osprey
The Osprey is Dajac's sturdy, versatile industrial hardware-software system for aligning and validating lamps during manufacture (on lamp production lines) and during installation (on vehicle assembly lines). It comprises a PC, an optics head containing a high-resolution colour camera, an interface for external devices, and a wireless keyboard with built-in mouse control. An unlimited number of external cameras can be attached for inspection of secondary light sources like DRLs, position lamps, turn signals, and other non-headlamp lighting devices.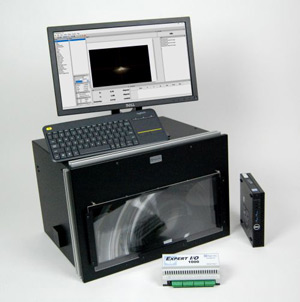 It has a variety of built-in alignment and validation algorithms and can interface with a variety of external components. In addition to the built-in algorithms, a software interface allows for custom algorithms. All this helps ensure every lamp is aligned and inspected exactly to the correct specification.

The Osprey system works with any beam pattern according to US, UN, and JIS regulations. The high-resolution USB camera provides bright, clear colour images with only a single connection to the optics head. Photo points allow inspection as well as photometric and colourimetric measurements at any number of locations within the image. It offers several methods for validating multiple aspects of cutoffs within images. And while Osprey was designed primarily for automated lamp alignment and testing by lamp and vehicle makers, it is also quite ideal for lighting labs as a quick, easy, accurate way to grab beam pattern images for measurement and certification.
IntelliAim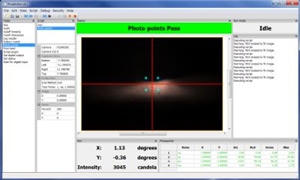 IntelliAim is the PC application used to control and configure the system. Algorithm parameters can be adjusted, tolerances can be set, and it also controls the interface to external manufacture/assembly devices such as electric screwdrivers, switches, sensors, and PLCs. Using IntelliAim's drag-and-drop scripting interface, it is simple to control and configure the Osprey.
During operation, IntelliAim shows a live image of the beam pattern, as well as the lamp's brightness and aim location. The image always fills the window, regardless of the window's size, so it's very easy for the operator to monitor the alignment and validation process.
Interview with CEO David Novak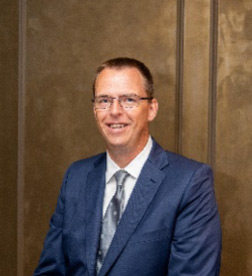 David Novak has always had a passion for electronics, software and graphics. He graduated from Kansas State University with a bachelor's degree in electrical engineering in 1993, then carried on at KSU, earning a master's degree in electrical engineering in 1994 with a speciality in machine vision and image processing. Novak went to work for Hopkins Manufacturing—an early pioneer in the U.S. headlamp alignment and validation industry, with lots of experience with the traditional American headlamp light pattern, who were struggling with the new Visual/Optical aim beam patterns. Novak helped them develop their Vision 1B, Vision 100, and Vision 2000 headlamp aiming systems.
Some time after Hopkins exited the headlamp manufacturing field, Novak was approached by Osram Sylvania to develop an inspection system for their plant at Seymour, Indiana plant (now a Valeo plant), and Dajac was born. Since then, Novak and his company in suburban Indianapolis, Indiana, have been consistently developing new features and products to support the ever-advancing automobile lighting industry. Mr. Novak kindly spoke with us recently; here's what he had to say:
DVN: You count big names like Valeo and Sea Link among your customers. What do you deliver to them?
D.N.: Dajac's Osprey product line is designed to make lamp alignment and validation easy for our customers. It's a great tool for lamp assembly lines and automobile assembly lines as well as quality control. I've been amazed how this product has grown. We started with a single, very simple design and now we have five models ranging from basic to high end with many accessories.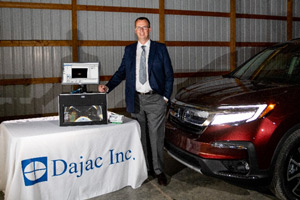 Our Osprey NXT is an entry level product. It has the smallest optics head and lowest camera resolution. It was ample for most applications years ago, and is still a good choice for select programs. For more challenging programs, the Osprey SC includes a high resolution 10MP camera, enhanced optics and a wider field of view. The Osprey WT builds on the SC with a taller field of view and features to enhance mounting, including when motion of the optics head is involved.
Recently, we've introduced two new products, the Osprey LC and the Osprey LI.
The LC is a lamp controller. It has no cameras and is intended to allow easy communication with lamps through scriptable CAN and LIN. More and more, CAN and LIN control is being added to all exterior lighting, not just headlamps. This is a great option when you need to control a lamp, but don't need to visually inspect it. And the LI is a lamp inspector. It has all the features of the Osprey LC, but additionally includes our secondary inspection cameras. This is an ideal choice when inspecting lamps other than headlamps where an optics head is not required. The secondary cameras can be mounted wherever needed, facing the lamp.
DVN: You recently visited Consumer Reports' automotive testing facility in Connecticut. What are your impressions?
D.N.: I found this a very interesting and informative trip. It was fun seeing their facility and learning their testing process. What surprised me the most was their testing procedure—it is very subjective. As an engineer, I prefer objective measurement, but I understand why they do what they do; they want to report the experience of an actual human sitting in the car.
IIHS, on the other hand, is completely objective. This creates confusion in the marketplace because there can be instances where IIHS rates a lamp above average, but Consumer Reports rates it bad or vice versa. It would benefit all if there were better correlation.
DVN: We were glad to see you at the Driving Vision News US Workshop in Michigan last January. How did you find it?
D.N.: It was a great event. We made many good connections. I particularly enjoyed the presentation on ADB. I'm anxious to see it adopted in the United States.
DVN: What makes your Osprey aimers better than the competition?
D.N.: TheOsprey product line is a culmination of twenty years of experience. Features such as high speed image processing, extreme high resolution colour cameras (10MP), advanced communication capabilities like CAN, LIN and Modbus TCP, not to mention the innovative lamp validation algorithms—hand-coded to perfection—ensure that we are meeting and exceeding our customer's needs in today's complex automotive lighting industry. All of this is tied together with a simple drag/drop scripting interface that is easy for a beginner and packed with power for sophisticated users. The system is designed for simple integration into an assembly line station, requiring only a handful of signals. This can be done by the customer or we partner with machine builders to provide full turnkey solutions.
DVN: What can you tell us about the IntelliAim software?
D.N.: IntelliAim is the Osprey control centre. It is used to define the process script and configure parameters. Then, during production, it communicates with the manufacturing station and lamp and performs the desired alignment and validation.Running on Microsoft Windows means that the user interface is instantly familiar to users. A list is provided of powerful tasks that can be effortlessly dragged and dropped into the script. Selecting the task in the script reveals parameters that can be configured to get the perfect result. The tasks include aiming, auditing, lamp validation, communications, script flow control, and many more. Tasks can make use of the optics head camera or any number of secondary inspection cameras. While executing the script, IntelliAim displays images and status. It also saves process data to a log file for later analysis. The user interface can be locked with a password to prevent unwanted access.
DVN: Aiming is paramount for on-road headlight performance. Does equipment like yours play a key role in getting the aim right consistently?
D.N.: Without a doubt! The Osprey achieves automated precision alignments through the use of two electronic screwdrivers to independently adjust horizontal and vertical alignment. This is done with brush DC motors, so integrating them is as easy as connected the armature plus and minus and a power supply. IntelliAim does the rest.Years ago, alignment was everything and is still a big part of the Osprey, but today's increased focus on beam pattern quality requires much more advanced processing. IntelliAim has several advanced features to perform this complex validation, such as photo points, photo areas, cutoff inspection, cutoff envelope, cutoff linearity, pattern matching, and colour inspection.