The SAE Lighting System Group held their Autumn meeting last week. As with so many other events routinely held in person, the meetings were moved online and conducted via WebEx—convenient, efficient, and inexpensive for participants who didn't have to pay for plane tickets and hotel rooms, and the meetings ran smoothly, though some participants expressed regret at being unable to interact in person.

The meetings, which spanned two days' time, covered the usual docket of committees and task forces as the group discussed needed, wanted, and proposed changes to the many lighting-related SAE J-Standards. There was discussion, for example, of how to resolve the conflict between J2442 coming due for its five-year update, and the ongoing restructure of the UN Regulations on lighting. J2442 lays out how to configure a vehicle lighting system so that it will be acceptable all over the world despite differing local regulations, and identifies and describes the windows of overlap that exist for each function's installation. It also calls out those areas not yet sufficiently harmonised, so that they can be given increased attention. The document must be updated to keep up with the SAE 5-year plan, but because it inherently must make numerous references to UN Regulations, which are in flux, there are different opinions on how to proceed. A thoughtful discussion yielded a variety of strategies to minimise the document's delay and obsolescence.
During the meetings, there was something between a substantial rumour and a knowledgeable report that NHTSA will be issuing their Final Rule on ADB this month—and that it will not hew to either SAE J3069 or to UN R48/R123 ADB. That suggests the Final Rule might make a lot of people dismayed and frustrated, but there's no use crying over milk that has not yet been spilt, so let us hope for a thoughtful, appropriate rule from NHTSA. In any event, we will analyse whatever rule comes forth once it comes forth.
There was further discussion of how best to specify performance from reversing lamps so that they not only warn nearby people that the vehicle is backing up, but also provide an adequate amount and distribution of light for rear-vision cameras now mandatory on new vehicles in the US, and widely installed elsewhere even in the absence of a mandate. Factors such as reversing lamp mount height and photometry were discussed, and thorny technical knots were grappled with—such as whether and how to suggest, in J593 (SAE's reversing lamp standard), that admixture of red light from stop-tail lights can make problems for clear imaging by rear-vision camera/display systems.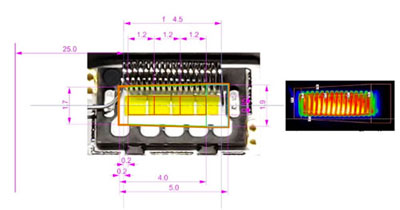 Another highly interesting subject at the meeting was that of LED retrofits for halogen headlight bulbs. Extensive work is ongoing toward the development of J3145, SAE's first-ever standard for such replacement light sources—just as similar activities are under way within the technical standards development sphere in the UN Regulatory world. New voices were heard from during these SAE meetings, as certain high-end aftermarket LED bulb makers were invited to share their perspective and expertise. Some of these companies have been doing intriguing work not only on optimising the optical compatibility of their LED bulbs with headlamps meant to take halogen bulbs, but also on other aspects of compatibility.

For example, many vehicles in North America have DRL implemented as reduced-intensity operation of the low beam or high beam headlamps. That works fine with halogen bulbs, which exhibit a nonlinear but predictable change in light output with changes in voltage input. But headlamp LEDs, isolated from line voltage by their driver circuitry, are usually programmed to provide design intensity across a range of input voltage, and they don't react predictably to modified input—whether it be by altered PWM, resistive voltage dropping, or another method. Aftermarket-specialty companies are now devising LED bulbs with smart drivers that can discern a vehicle's call for headlamps versus for DRLs and power the LEDs accordingly to provide an appropriate level of output for the requested function.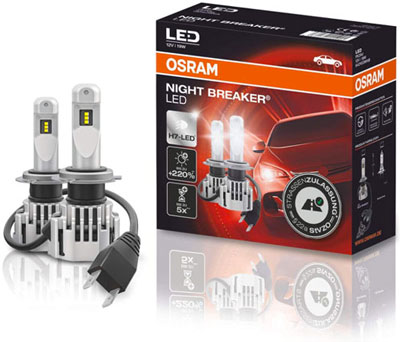 And just a day after the end of the SAE Lighting Meeting, Osram announced that one of their LED bulbs has won national approval in Germany for on-road use in certain specific headlamps on certain specific cars. It's the new version of their LEDriving H7 LED bulb, and the headlamps on the list, when equipped with it, perform in accord with UN R112. The approval is valid only within Germany because these bulbs aren't homologated to any UN Regulation—there is not yet any mechanism by which they could be. Osram have put up a website (link goes to English translation; original is in German only, naturally, given the Germany-specific approval) describing the new bulb and its legal approval. The compatibility list so far includes seven headlamps used on 12 vehicle models from Audi, BMW, Fiat, Ford, Opel, and Peugeot; Osram say the list will be expanded as further tests are carried out. Some of the approved headlamps use reflector optics type—generally a difficult kind of headlamp to get proper beam patterns from with a type of light source other than the intended one.
A note on the Amazon page for the new bulb states that it is to be released for sale on 6 October, and that driving in left-hand traffic (as when visiting the UK) requires switching back to halogen bulbs.