Commercial vehicle service places heavy demands on lighting, and the design and style of these vehicles is becoming increasingly important. Hella are now launching LED versions of their Jumbo driving lamps, long popular in halogen and HID versions.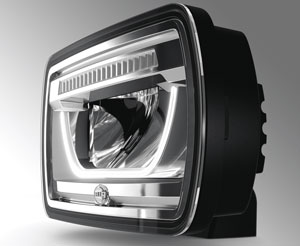 The new Jumbo LED auxiliary driving lamp bears a striking LED position light, which presents itself in the form of a friendly smile. When switched on, the light signature with the high recognition value presents a characteristic lighting design both during the day and at night thanks to Hella's dgeLight technology, developed and commercialised first in passenger cars. The light signature and appealing design trim in the upper part of the lamp were inspired by the design of Hella's round Luminator LED driving lamp, released last year.
The Jumbo LED is available for upright or pendant mounting. The instantaneous high beam light signal enables the use of a conspicuous headlamp flasher function (as for emergency/priority vehicles). The lamps have an impact-resistant, lightweight housing made of thermoplastic material, and offer high energy efficiency with low power consumption.