How much safer are AVs? When Toyota set about finding out, they made some interesting discoveries. Even when every vehicle was given every available ADAS technology, Toyota calculated a 54% drop in fatalities, which suggests realising "Vision Zero" initiatives will be harder and take longer than hoped. Rini Sherony, a senior principal engineer for Toyota's Collaborative Safety Research Center in Ann Arbor, Michigan, spoke at the virtual CAR Management Briefing Seminars. According to NHTSA, traffic fatalities in the U.S. dropped from a recent high of about 44,000 in 2005 to 33,000 in 2010 and 2011, then numbers rebounded to 39,000 in 2018.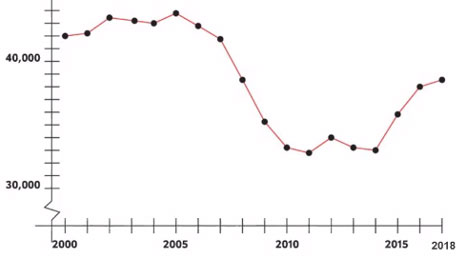 Toyota partnered with Virginia Tech to analyse official crash databases and turn the statistics into thousands of simulated crashes. Simulations gave the company insight into which technologies would be the most effective to increase pedestrian and vehicle occupant safety. Toyota also analysed the kinds of vehicles involved in crashes as well as the types of crashes that kill people.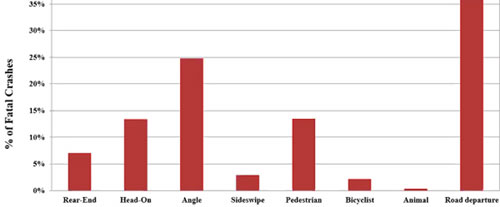 It turns out that offset crashes kill more people than head-ons, but the most dangerous type of crash is road departures, which makes up over 35% of all fatal crashes. Toyota needs this kind of data to understand and develop countermeasures, Sherony says.
Using almost 2 million crashes from 2015 as the baseline, Toyota's research reveals the most effective technology to reduce crashes would be 100% implementation of rear-end automatic emergency braking (AEB) systems, which could prevent over 350,000 crashes a year in 2050.
The second-most effective technology is animal AEB (198,000), followed by Straight Crossing Path Intersection-ADAS (87,000).