Twice a year, we put on a DVN Workshop dedicated to vehicle lighting. Every Workshop smashes the attendance record set by the previous one, and we're edging up to around 350 attendees.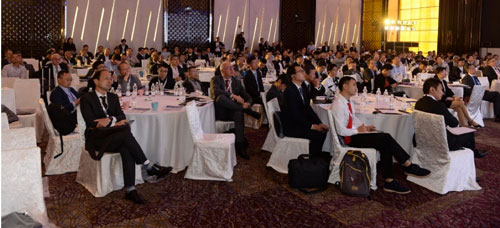 The first DVN Workshop of 2020 will be held in Munich on 28–29 January. It will start off with a keynote on the future of mobility by Carl van de Weijer, TU Eindhoven's Director of Smart Mobility. The rest of the two-day event will be filled with six presentation sessions, a panel discussion, expo booths, and networking time. Here's the docket:
Session 1 focusses on digital lighting activities of premium car makers:
Wolfgang Huhn (Audi, General Manager Lighting & Vision)
"Digital Light for Digital Cars"
Joerg Kaelble (BMW, General Manager Lighting & Visibility Systems)
"New Generation BMW Laser Light"
Shammika Wickramasinghe (JLR, Body Engineering Group Leader & Domain Architect)
"Lighting Communication"
Paul-Henri Matha (Volvo, Exterior Lighting Technical Leader)"Customer Knowledge—Volvo Approach"
Session 2 centres on adaptive lighting activities at generalist car makers:
Frank Heitplatz (Ford, Product Development Manager Global Core Restraints
"Ford's View on Adaptive Headlamp Technology Evolution"
Whilk Gonçalves (PSA, Lighting & Signalisation Expert)
"PSA Group Strategy for ADB Headlamps"
Francois Bedu (Renault, Lighting Innovation Pilot)
"After Full LED Headlamps For All, How ADB System can be Adressed to Mainstream Market by a General Carmaker?"
Ingolf Schneider, (Opel, Body Exterior Lighting Manager)
Presentation Title TBD
Session 3 will be a first at a DVN Workshop, dedicated to interior lighting:
Robert Isele (BMW, Head of Interior Lighting)
"The Vision of Interior Lighting"
Matthias Merkel (Hella, Interior Lighting Head Program Manager)
"Interior Lighting to Support Future Use Cases"
Dr. James Gourlay (Design LED, CTO)"Dynamic Surface Backlighting"
Michael Brandl (Osram, Automotive Interior Application Engineering Director)
"Dynamic Lighting Enabling New Functionalities"
Björn Sobischek (Future Lighting Technologies, Executive Director)
"Heated & Lighted Textiles"
Session 4 is for set makers digital and HD light module innovations:
Michael Kleinkes (Hella, VP of Lighting Technology and Innovation Development)
"How to Realise One Headlamp for Worldwide Application Using SSL Technology"
Ralf Klaedtke (ZKW, CTO)
"The 5S of Digital Lighting: Smaller, Safer, Smarter, Sustainable & Style"
Andrea Stella (Marelli, VP of Research & Development)
"Lighting Signals 360° Around the Car"
Todd Morgan (Varroc, Senior VP of Global Product Development)
"Lighting Modules for ADAS Sensor Integration"
Benoist Fleury (Valeo, Visibility Product Marketing)
"High Definition Lighting is Great! Yes, But What For?"
Alfonso Orozco Lopez (Mind, Research & Development)
"China Style Trends and Lighting Homogeneity"
Koito (speaker tbd)
"BladeScan ADB Headlamp—New Lexus RX Model"
Taewon Lee (Mobis, Global Business Development Team Manager)
"Introduction of the World's First 3D Lit Image Tail Lamp"
Session 5 is all about light source suppliers' matrix, µLED, µOptics and SSL innovations:
Ulrich Frei (Osram, Senior Automotive Exterior Application Engineering Manager)
"Heatsink-less Economic LED Headlamp Approach"
Lars Dabringhausen (Lumileds, Senior Biz Development & Application Design-In Manager)
"Scaling Up ADB Matrix Solutions for Mainstream Market Adoption—Luxeon Neo Exact"
Chadfree Cheng (Everlight, Senior Engineer)
"Brighter Future Enabled by Smart Device: Everlight's SmartLED series"
Hartmut Wettengl (Dominant, Marketing Director for Europe)
"SeddLED—Smart Embedded Digital Driver LED"
Session 6 covers materials, electronics, simulation, and testing:
Alexey Kharitonovich (Mentor Graphics, Senior Product Manager)
"High Fidelity Simulation With Electrical-thermal-LED Models"
Prem Sharma (NXP, Automotive SSL Segment Manager)
"Functional Safety Solutions for Advanced Automotive Lighting Systems"
Andreas Müller (W.L. Gore) & Hassan Koulouh (AML Systems)
"Headlamp Condensation Prevention Through Active Moisture Removal"
Jatin Thaker (Elmos, Senior Lighting Product Director)
"Cost Effective & Scalable Interface Solutions for High Resolution Dynamic Lighting"
Jan Helmig (Covestro, Mobility Lighting Global Technical Marketing)
"Optical Enhanced Polycarbonate: From Exterior Lighing to New Interior Design Concept"
And the final session will be a panel discussion chaired by Geoff Draper on regulation of new lighting functions; Six experts will share their vision and views, answerlng the question how to regulate new lighting functions as road marking, start-up welcome and security lighting projections?