Download full report...

Though it might not have been as grand a show as Paris or Detroit, the 2013 Geneva auto show emphasised some impressive innovation and novelty from automakers all over the world.

Several important firsts were on display in production cars , though fewer than usual. Notable were three French models: the Renault Captur, the Peugeot 2008, and the Citroën Technospace—as well as the Alfa Romeo Coupé 4C, Opel Cascada, Honda NSX, Hyundai SantaFe, and Mercedes-Benz C-Class.



Renault Captur




Citroën Technospace

 


Opel Cascada




Honda NSX

 


Hyundai SantaFe




E-Class
 Hyper-expensive cars were the great success of the show with Lamborghini Venenos (at a frosty €3 million apiece), the McLaren P1, the Ferrari LaFerrari, the Maserati Quattroporte, the Bentley Flying Spur, and the Rolls-Royce Wraith.



Lamborghini Venenos




LaFerrari

 


McLaren P1
 But again concept cars are the real stars of this 2013 Geneva auto show. We liked Audi's A3 g-tron, BMW's i3, the Honda Civic Tourer and NSX, Kia's Provo concept with its visible dynamic light, and the Mitsubishi GR-HEV.



Kia Provo concept

 


Honda Civic Tourer concept
 In the eco-car realm, Volkswagen's LX1, the Audi A3 e-Tron, and Peugeot's Concept Hybrid were the stars.
| | |
| --- | --- |
| Volkswagen LX1 | Audi A3 e-Tron |
The Volkswagen Golf was awarded the car of the year by a jury of 58 European journalists, joining the Opel Ampera in 2012 and the Nissan leaf in 2011.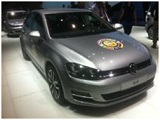 Volkswagen Golf
This report is narrowly focused on the vision systems of the vehicles on display. Around 100 photographs in 50 pages give a "you-are-there" look at the new vision systems and on the details.