We've all spent more than 10 months coping with Covid since our last DVN Workshop in Munich last January. The restrictions feel like a real crimp on such a dynamic industry as vehicle lighting, wherein networking has such a crucial role in bringing out innovations and collaboration. Of course we all want to get back as soon as can be to attending live events.
In the meantime, at DVN we're working hard to make it possible for you to keep up the networking—with weekly DVNewsletters, monthly DVN Reports, and online events configured and equipped for active interaction, not just passively sitting there watching a livestream. Following on the success of our online 3rd DVN Lidar Conference held a week ago, we're now putting the final touches on the 21st DVN Workshop to be held online next Wednesday, 2 December.

How do we cater for real-time networking in an online event? Mainly by facilitating at-will-and-at-whim chats amongst attendees (incuding presenters) and by dint of versatile virtual exhibitions. We noted attendees' keen interest in the expo portion of the DVN Lidar Conference. Exhibitors, for their part, had a good opportunity to carry on their networking to stay visible and avoid getting disconnected in the community, and to use the DVN expo platform to communicate their innovations and key messages to hundreds of attendees.

So how exactly is it done? With this comprehensive five-part expo package:

1. Virtual booth with provisions for exhibitor videos and a photo gallery, downloadable brochures, company contacts and three free entries. During the event, attendees can easily learn about your innovations. At the Lidar Conference, every exhibitor received an average of 150 visitors. With 300-400 attendees at the DVN Workshop, we expect an average of 250 visitors in each e-booth. But like in real events, exhibitors should actively contact potentiel customers before the event using the networking facilities of the event platform.

2. Company logo on exhibitor announcements during conference breaks. At the end of each session, the panel of exhibitor logos will be presented to attendees—around ten times, all in all—for between a few second and a few minutes at a time, for repeated reinforcement of your company's brand in attendees' minds.

3. Company video running during conference breaks During the lunch break, attendees can see the exhibitors videos running—so all attendees will be able to see exhibitor videos even without visiting the virtual booth.

4. Company virtual booth visible for a full week to the larger DVN audience of 3,500 lighting professionals on the DVN website. This way the virtual booth can be seen by not only the attendees but also by thousands of additional eyes.

5. Company news published in the DVNewsletter. As with the DVN Lidar Conference, DVN will publish a special newsletter on 8 December highlighting the innovations presented by DVN Workshop exhibitors.
With feedback and data from the DVN-I online Smart Interior Workshop last month, and the DVN Lidar Conference last week, we're working hard to make the online 21st DVN Workshop another grand success. Dedicated to Digital Lighting Technologies, Lighting Communication, and Regulation, this workshop will gather experts, engineers, designers, researchers, regulators, and practitioners from every sector of the vehicle lighting world.
Kenji Arima, Koito's Executive Vice President of Technology, will start the Workshop with a keynote speech about creating new values.
He will explain what Automotive world has to offer in the future mobility society.
The first session, chaired by DVN CEO Hector Fratty, will present the perspectives of automakers BMW, Daimler, Renault, Volkswagen, and Volvo.


The second session, chaired by Audi's Michael Hamm, will focus on the tier-1 segment with presentations from Marelli, Ichikoh, Stanley, and ZKW.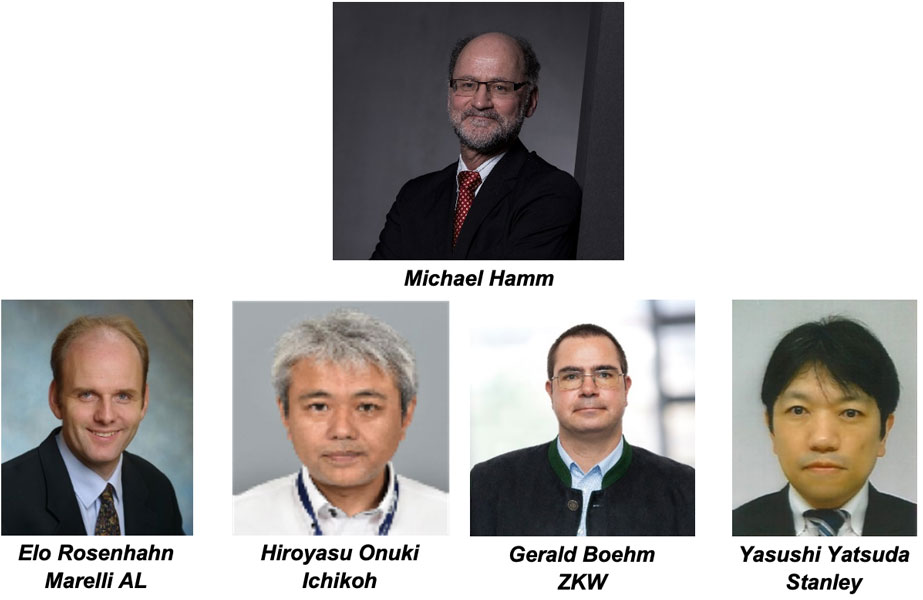 The third session is all about regulations. Geoff Draper will chair a panel of experts including Wolfgang Huhn, Mike Larsen, and Rainer Neumann.


The fourth session will look at future car interiors, with lectures from Antolin, DesignLED, Texas Instruments, and Yole.
The fifth session will be about light source innovations, with contributions from Osram Opto Semiconductors, Lumileds, Nichia, and Osram-Continental.
The sixth and last session will cover electronics, lamp aiming, and measurements, with talks from NXP, Elmos, AML Systems, Instrument Systems, and Covestro.
We foresee attendees' interest, along with the lectures, to participate in Q/A sessions and visit the online expo booths to better know the products, ideas, and innovations of the expected 15 exhibitors.