News home
Editorial
Communication is Paramount
Monday, 19 March 2018
When I visited the Geneva Auto Show, I was impressed by two things concerning autonomous cars: most of the concept cars use communication with lights; front, rear, and sometimes side. And this communication with lights uses different shapes, colours, signs, messages, and luminances.
After several lectures at DVN workshops and news articles on AVs we've already published, after the info picked up at IAA and now in Geneva, I am convinced that communication by external lights will be more and more important. I am excited to know the latest results and findings by universities and companies in America, Europe, and Asia.
The DVN Tokyo workshop this coming June will dedicate a big part of the event to this point with the theme of Advanced Technologies, Communication, and Regulation with five topics:
Advanced lighting and signaling
HD Headlamps
Communication with environment, pedestrians, drivers, infrastructure.
Interaction with regulation
Advanced development tools
Registration is available online, and we expect space will fill up very quickly.
Sincerely yours
DVN President


In depth...
Lighting Must Play a Role in Communication
Monday, 19 March 2018
Humans can predict human behavior on the road. When machines drive, they will need to be able to predict and anticipate human behaviour much better than they presently can.
Human drivers, for example, know by intuition and experience that teenagers on a corner might step out and cross against the light, while a woman pushing a child in a stroller is more likely to obey the signal.
From the concept cars and lectures made at the last congresses and workshops, we can consider there are two ways to communicate with light: signs and signals meant for ambient humans (pedestrians, bicyclists, other drivers) to see on the vehicle itself, and markings "printed" with light on the road.
Communication by light signs and signals
This uses shape, colour, homogeneity, and intensity of light signals and signs.
BMW unveiled a car equipped with a green light on the front of vehicle to help pedestrians cross the road safely by alerting them that the car has "seen" them and will wait for them to cross.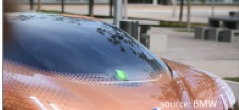 Register to read more...
<<

Start

<

Prev

1

2 3 4 5 6 7 8 9 10 Next > End >>