AEye's new office in Munich will locally support their current and potential customers in Europe in sectors including automotive, mobility, trucks, logistics and smart infrastructure. With the new office, AEye now have a global presence through offices in Germany; Japan; Korea, and the United States.
AEye automotive senior vice president Bernd Reichert says "We've experienced strong demand and traction in Europe across application segments, necessitating an on-the-ground physical presence to support AEye's growing customer base", and introduced Andreas Prinz (photo) as responsible for the new activity. Reichert says Prinz "has not only deep industry experience, but a long track record of successfully building and optimizing the performance of teams in various markets".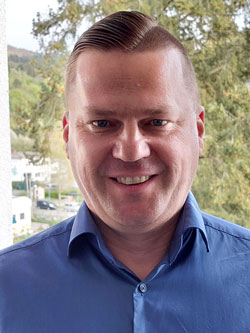 Prinz comes to AEye with more than two decades' experience in automotive software. In the past, he held director roles at both Magna Electronics and Harman, as well as various engineering roles at companies such as Continental Automotive Systems and Motorola. Just before this present nomination, he was director of customer programs for TTTech Auto in Munich.
AEye are distinguished by their software-defined lidar solution for advanced driver-assistance; vehicle autonomy; smart infrastructure; logistics, and off-highway applications. Their 4Sight Intelligent Sensing Platform, with its adaptive sensor-based operating system, delivers fast; accurate, reliable information. The 4Sight products built on this platform are ideal for dynamic applications requiring precise measurement imaging to ensure safety and performance.
Interview with Bernd Reichert, AEye's automotive senior VP
At the opening of AEye's new Munich office, DVN Lidar had the opportunity to interview Bernd Reichert. Due to the intensive discussion and insights from the interview, we're presenting it in two parts—you're about to read the first; the second will follow in next month's DVN L Newsletter.
---
DVN: Bernd, thank you for this interview. First of all, congratulations on your new European office in Munich. In 2021, AEye opened offices in Korea and Japan; how important is the European automotive market for AEye compared to the North American and the Asian markets?
Bernd Reichert: Opening AEye's Munich office is an important milestone for us and demonstrates our commitment to growth and our clients in Europe. There are major differences in the different markets we serve. In North America, we see a much higher number of startups; new mobility players; and EV/AV makers coming up beside the traditional big 3. Technology hubs on the West Coast of the United States heavily fuel North America's contributions to the self-driving industry. Without a doubt, California is the American centre of gravity for AV technology. Waymo and Cruise have long been testing their versions of AVs in California. Automakers such as Ford and GM have also been present on the self-driving scene. Arizona is another key player in the AV industry, especially for commercial vehicles.
The challenge in North America is that there is a patchwork of different approaches across states and regions. In contrast, the European Union has recognised the benefits that AVs can provide. The EU is leading the way to ensure coöperation at a regional level among all stakeholders, creating a favourable environment for AV development. The European Union, with its strongly centralised regulations, is an attractive market for AV development. While consistent regulations may not be in place in North America, American technology companies have been innovating in this space since the very beginning. AVs are already in Europe, promising a wave of efficiency that will transform the transport industry.
Asia is expected to have the largest market share by 2030. We see an increasing request for efficient, convenient and safe driving, enabled by growing income in emerging countries and safety regulations. China is at the forefront, where companies like Baidu have already collected millions of kilometres of real road experience in megacities. China is the biggest automotive market for industrialisation and infrastructure, creating massive revenue opportunities for car manufacturers. Technical competencies in hardware and software have developed quickly in China and are driving this fast development from ADAS L2+ toward self-driving cars.
AEye's new location in Munich supports our current and prospective customers in the region across all addressable markets. This includes automotive, mobility, trucking, logistics, and smart infrastructure. We've experienced strong demand and traction in Europe across application segments, necessitating an on-the-ground physical presence to support our growing customer base.
---
DVN: With respect to the European automotive lidar ecosystem, will AEye focus on automakers or tier-1 suppliers as your main customer base? How do you plan to manage conflicting interests and requirements that may arise?
BR: AEye have a unique business model that is not capital-intensive. We licence our design to our tier-1 partners, who are responsible for the final product; its industrialisation, and the commercial relationship with the customers. We don't see ourselves as a classical tier-2 but as a 'tier-1.5' because we promote our technology directly to the automakers.
The conflict you mention might come up in the case of tier-1 suppliers following a systematic approach where a lidar sensor might compete with other sensor technologies. However, we see that very rarely because the industry understands that lidar not only provides advantages for L3/4 autonomous driving (where lidar is mandatory) but also for improved L2+ ADAS performance.
As you may know, we have a very close relationship with Continental, who use AEye's technology. Continental have a long history in this industry, utilising 20 million lidar sensors and 150 million radar sensors throughout almost all of its vehicle manufacturers and brands. Together, we have a profound understanding of the autonomous mobility industry. Many key players in the industry recognise the uniqueness of our technology. We have a strong sales and business development network with people knowledgeable about automakers and
tier-1 suppliers.
---
DVN: What does the relationship look like between AEye and some of the more interesting European tier-2 and -3 suppliers, and how do you evaluate the EU's progress in autonomy and mobility?
BR: AEye view the EU supplier ecosystem as extremely valuable and naturally synergistic with the core functionality of our software-defined sensor. To reap the benefits of integrating any given technology supplier, AEye's sensor can be configured to be triggered by a third-party sensor modality, in turn positively influencing our sensor's selection of the correct deterministic scanning mode for a given scenario—whether that's in city environments, at highway speeds, in inclement weather, and so on.
Europe's ecosystem of suppliers is full of strong technical expertise that is growing, which is apparent when you consider, for instance, Germany's commitment to leadership and autonomous and connected driving through research and development programs. Its new Act on Autonomous Driving established the regulatory framework for L4 autonomous vehicles to operate regularly on public roads in determined operational areas. Some examples include shuttle services from point A to point B, buses operating on an established route; hub-to-hub services (e.g., between two distribution centres); automated valet parking, and the transport of people or goods.
This interview will be continued in the next newsletter.
---
DVN comment

The news and even more the interview reveal and reiterate in our view four important key messages about autonomous driving and thus also lidar: North America has a big and powerful ecosystem with respect to developing and introducing AVs. California is a hub for passenger cars and Arizona for heavy trucks. A conflicting patchwork of state laws make an obstacle for broad implementation. Europe has a more unified approach about regulations, but is lagging behind in the push from industry to make AVs happen. On the other hand, Europe has great competencies to offer at the tier-1, 2, and 3 levels, especially with respect to hardware.

Asia and especially China are most advanced in AV technology, and due to their traffic conditions the drivers can benefit most. Therefore Asia is expected to enjoy the biggest market share of AVs in 2030. In view of the different regional conditions, lidar suppliers have an interest to be located and closely in touch with the regional/local representatives of customers as well as suppliers.