The new DVN Study New Lighting Functions 2020–2030 describes, in 125 detailed pages, how safety, communication, comfort, and styling with light can most feasibly be improved in context of today's and tomorrow's realities on the ground around the world. It's now available for purchase.
This study, made by eight automotive lighting experts, each with more than 30 years experience, will materially help lighting and driver-vision decisionmakers to build and optimise their long-tem strategies and plans while simultaneously helping specifiers, researchers, engineers, designers, stylists, and regulators focus and target their work efforts. The study was built because all of us at DVN are convinced that new functions will be the main challenge of vehicle lighting in the next decade.

The eight experts are:

Geoff Draper, elected GTB President in 2008 after a renowned career in the vehicle lighting industry working for Lucas Lighting, Carello, Magneti Marelli, and finally as Technical Director of Koito Europe. In 1989 Geoff was elected chairman of the GTB Harmonisation working group and subsequently he led the GTB Front Lighting group, CIE TC 4-45, and the SAE Pedestrian Visibility Taskforce.

Rainer Neumann, who joined Bosch where he spent 13 years in vehicle lighting R&D. In 1997 he became the global director of lighting development at Magneti Marelli, then he joined Visteon as Head of the European Lighting Group. In 2012 Dr. Neumann became VP of Global Technology at Varroc, who had bought Visteon's lighting division.

Ralf Schäfer joined Philips Research in 1977 gathering experience on halogen and HID light sources, then becaming Head of Xenon development. As his final position, Ralf was VP for OEM marketing of Philips Automotive Lighting with the task to balance LED technologies versus conventional light sources. He now works as a freelance consultant.

Jean-Paul Ravier worked for over 41 years at Valeo, including 29 years at Valeo Lighting where he held a variety of management positions first in IT and finance, and then in R&D, projects, and innovation, including in Japan from 2005 to 2009 at Ichikoh as a board member and managing director. Then he was appointed chair of the ELS Advanced Master's Degree Program in Lighting. He held that position through the end of 2017 and is now Development Advisor for DVN.

Carsten Befelein is a vehicle lighting expert with enthusiasm for styling aspects. He likes to work out cognitive and connected lighting innovations and concepts with feasibility and economic studies for a successful serial implementation. He worked from 1987 to 2009 at BMW in the lighting, electronics, interior components, and styling departments. From 2012 to 2019 he worked at Toyota Boshoku Europe and Techniplas-Weidplas to develop smart trim parts with innovative lighting and electronic integrations in plastic components.

Daniel Stern, DVN's Chief Editor based in Vancouver, Canada, is considered as one of the five greatest lighting experts in North America. He is a member of the US National Academy of Sciences Transportation Research Board, which steers North American research on automotive conspicuity, lighting performance and regulation. He is an active member of the SAE Lighting Systems Group, and attends and participates in the world's symposia and technical conferences.

Leo Metzemaekers worked 29 years at Philips (then Lumileds), holding various international assignments in product development, marketing and sales, and strategy and business development. Since 2016 he works as an independent advisor in automotive sales and marketing, strategy, and business development.
Hector Fratty made hisentire illustrious career in vehicle lighting. From 1995 to 2006, he was Valeo Lighting Systems' chief of R&D. His level of expertise in lighting gained him recognition as one of Valeo's five Master Experts. He presides over the biennial VISION Congress and is also a member of the ISAL steering committee. He founded Driving Vision News (DVN), the vehicle lighting, ADAS and car smart interior industry's journal of record, dedicated to keeping the involved community informed and communicating about the latest progress and developments.
The main reasons to buy the study:
• It's prefaced by one of the great minds of vehicle lighting regulation—Ir. Michel Loccuffier, the Chairman of GRE—who explains how to manage regulatory issues, and by Dipl. – Ing Stephan Berlitz, Audi's acclaimed head of lighting innovation, who presents the challenges of new lighting functions in the next decade;
• It presents in detail the new exterior and interior lighting functions to improve safety, comfort and styling, considering the regulatory implications;
• It provides a working answer to three key variables: car demand in the coming months and years considering the pandemic; the shape and size of the overall vehicle lighting market in medium and long terms, and the influence of lighting in fatalities today and in the future with new lighting functions.
• It's packed with relevant new information, efficiently and accessibly presented as 11 best bets.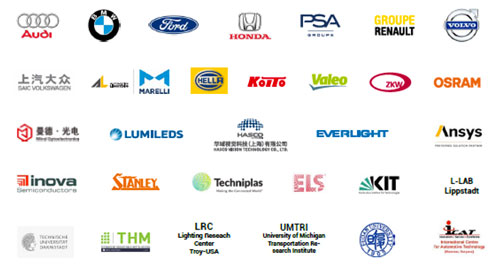 These best bets form the position of DVN after extensive interviews with 35 companies including automakers, lighting suppliers, research institutes, and consortiums involved in lighting. Some of these best bets are broad-stroke descriptions of major goals and trends; others are key challenges and opportunities.
For example, one of them centres on vulnerable road users and the evolution of lighting to drive down the unacceptably high rate at which they're killed and injured in traffic at night. Another looks at the future of a certain technological category and its applicability to new exterior and interior lighting functions using HR resolution from matrix, DMD, µLED, MLA . Another explores differences of styling imposed by brands as decorative illuminations, considering regulation and still another develops evolution of digitalization and personalization for new safety and styling features..
That's just a quick description of four examples out of a list of eleven!
Pre-Release Feedback
Stephan Berlitz, Head of Lighting Innovation & Functions at Audi, says with "big challenges for the vehicle lighting family, the DVN Study gives us an overview about the possibilities and first steps into a bright future".
Michel Loccufier, Chairman of GRE, says "With the accelerating rate of innovation in car lighting and the potential for safety benefits, I encourage everyone to share their expertise and actively work together under the GRE umbrella. Together we can strive toward true global harmonisation and hasten the reduction of crashes and traffic-related deaths and injuries".

Contact DVN's Salomon Berner to buy your copy. Meanwhile, here's the table of contents to whet your appetite:

Chapter 1: Preface
Chapter 2: Acknowledgements
Chapter 3: Management Summary and DVN Best bets
Chapter 4: Market view and business opportunities
Chapter 5: Lighting and Traffic-Related Fatalities
Chapter 6: New Lighting Functions to improve safety

Chapter 7: Overview of technologies for new safety and communication lighting functions
Chapter 8: Importance of Styling for Exterior Lighting
Chapter 9: New functions for Interior Lighting
Chapter 10: Regulatory Impacts and Considerations
Chapter 11: Research Studies on New Functionalities