For many years, the top-tier auto show circuit included Frankfurt, Geneva, Detroit, Paris, and Tokyo. And for quite a long time, stretching back before emergence of China and CES, the LA Auto Show has been different. It's had a longstanding focus on innovative concepts up and down the scale, from whole vehicles down to the smallest parts concepts. It's where the Green-Car-Of-The-Year award winner is chosen, in California's easygoing, sunny atmosphere. As auto shows around the world struggle to stanch sagging attendance, Los Angeles has held on remarkably well, continuing to cater for a public who can't resist its huge media market and thriving, multifaceted car culture.
With the whole industry going through a transition to electrification, the LA Convention Center was filled with electrics and hybrids, though there were still some petrol-powered SUVs and even a few sedans from automakers willing to test this multicultural Californian market where Asian, American and European car cultures are exposed head-to-head. Let's have an interior-focused tour of the vehicles at Los Angeles.
The stirred-up buzz was mainly focused on two unusual vehicles: The Ford Mustang Mach E (reviewed this week in the Design Lounge) and the Tesla Cybertruck, which was presented in parallel to the show, as Tesla decided not to have a booth at the show.
Tesla Cybertruck
The Tesla Cybertruck was unveiled by a boastful CEO Elon Musk, who described it as offering better utility than any other truck, with more performance than a sports car.
He also talked up what he called the truck's "shatterproof" glass, which promptly shattered both times Tesla's design chief Franz Von Holzhausen threw a metal ball at it. Musk was shocked into saying the F-word into his microphone amidst the theatrical fog and special-effects fireballs heralding the Cybertruck on stage.
Shatterproof glass or no, the Cybertruck certainly bears an unusual design. Is it a flop-in-waiting, or Tesla's next rule breaking success? It's too early to tell. Meanwhile, a look inside shows its 5-seater interior to be in line with Tesla's others: a minimalist instrument panel with 17" tabletlike screen, extensive massive/edgy design cues, front seats with integral head restraints, a huge center console/armrest, a video rear view mirror, and a big glass roof.
Premium EVs
All premium brands are feeling pressure from the likes of Tesla, and they're responding in spectacular fashion. Audi unveiled their e-Tron Sportback version of their e-Tron crossover, with more aggressive rear styling.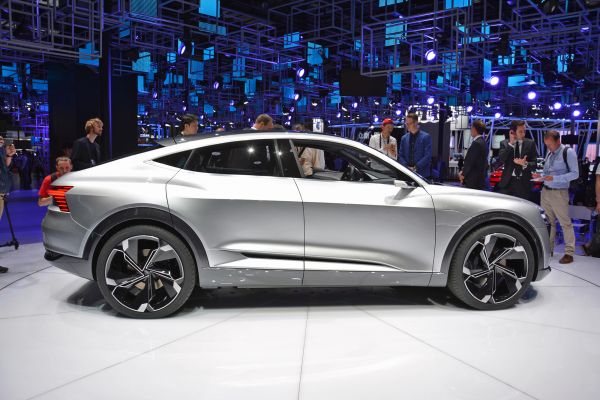 BMW showed a pair of electrified cars as well. Their X3 xDrive30e plug-in hybrid crossover is a plug-in version of BMW's best-selling model in the U.S., while the redesigned BMW 330e plug-in hybrid gets a performance and range boost. Mercedes didn't highlight anything electric at the show, but Lexus displayed their futuristic LF-30 EV concept that debuted at the Tokyo auto show.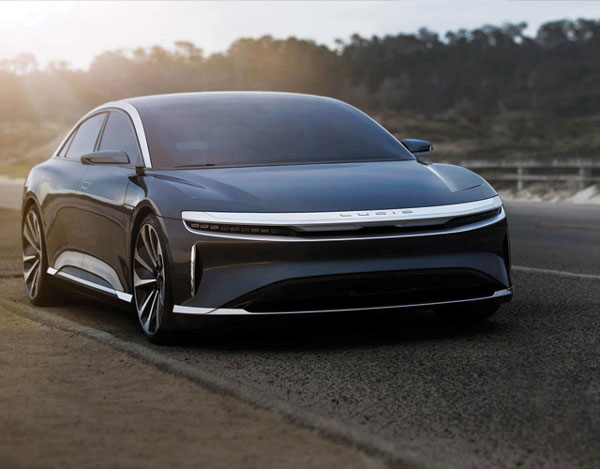 And California startup Lucid gave rides in a prototype of their Air, on the streets around the Los Angeles Convention Center.

VW ID Space Vizzion concept
Volkswagen showed an EV wagon-shaped concept called the ID Space Vizzion, which is based on the VW Group's MEB architecture and teases the design of what is likely to become the seventh model in the ID family, following the original ID Crozz crossover, ID Buzz electric microbus, ID Vizzion luxury sedan, ID Buggy electric dune buggy, and the ID Roomzz three-row SUV.
The concept has two-row seating but can accommodate a third row. The cabin features what Volkswagen calls an "augmented reality head-up display", a 15.6-inch touchscreen that displays infotainment and controls comfort, connectivity, and other vehicle settings. The shifter is a stalk on the right side of the steering column in the all-digital cockpit.
A thin light strip between the A pillars, which VW calls the ID Light, interacts visually with the driver with greetings, navigation information, and brake instructions in concert with audible interactions.
The ID Space Vizzion has seats and surfaces made of Appleskin, a leatherlike material developed in-house by Volkswagen from apple juice production waste. VW says they can already replace 20 percent of polyurethane in a vehicle with the new material, and that a future version of it will present "a metallic surface illuminated by ambient lighting".
Hyundai Concept T
Hyundai's concept T is a plug-in hybrid SUV with a futuristic design likely foreshadowing the new Tucson, perhaps in addition to other forthcoming models. We would like to have seen the interior, but it was deliberately hidden, so we will have to wait. Hyundai also gave a first-in-the-US look at the refreshed 2020 Ioniq sedan, the pure-EV version of which has a bigger battery for greater range.

Production cars
The new BMW 2 Series Gran Coupé, coded the F44-type, is the second compact model to be built on the new FAAR front-driven platform, after the F40-type 1 Series. The F44 reinterprets the design theme of the BMW hatchback and adds a more premium feel to the overall design, characterized by the sloping roofline and the sharper silhouette. The new compact four-door coupé fairly bristles with digital content.
The Toyota RAV4 will gain a plug-in powertrain option for 2021, but Toyota didn't give any specifics about it—nothing about its battery pack or its range. Nor did they reveal anything about the interior. Here again, we're going to have to wait.
The Corsair replaces the MKC as Lincoln's smallest SUV, now with a plug-in-hybrid Grand Touring model. Interior fit, finish, and fixtures are in line with the car's price and positioning, and the acres-deep dashboard has an interesting shelf effect.
Augmented reality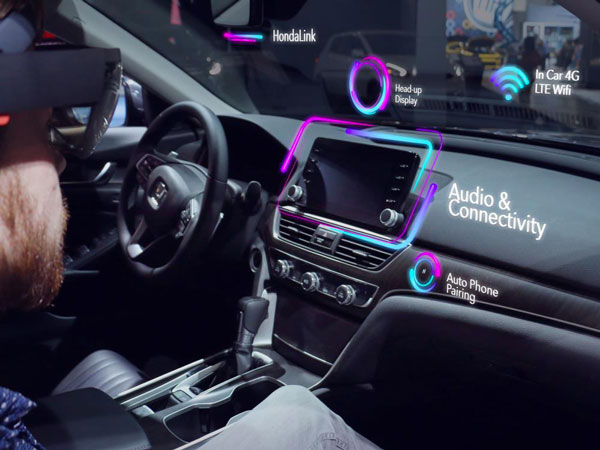 Virtual and augmented reality are making their way into cars, garages, and dealerships alike. Honda is using what they're calling "HondaLens" to walk potential buyers through the features of the new Accord. During the HondaLens experience, the car's controls and even its engine appear to float in midair, in bright colors.
Meanwhile, Swiss company WayRay was named the winner of the Automobility LA (the tech trade show attached to the auto show) Automotive Startups Competition for its holographic displays for navigation systems.