DVN: The TU Darmstadt Lighting Institute (FGLT) is well known in the world of vehicle lighting. How many researchers are working in that field today at Darmstadt, and in which programs?
Prof. Khanh: This year we have in total 16 PhD students at the institute. Five of them belong to the automotive group. One major automotive topic is an infrastructure analysis of lighting-relevant parameters, with the help of AI (artificial intelligence). The idea is to find a number of categories of road parameters and define the ideal lighting situation under the influence of other road users etc. If this project is successful, and it will be, the low beam / high beam classification of car lighting is history. Other topics are displays, also with a lot of AI contribution, and the upcoming project of the European Union called "Project Auto – AI twilight" dealing, e.g., with the degradation of the whole vehicle. AI is now an essential technology for our research work. We work closely together with AI start-ups which were founded as spinoffs mainly from the Informatics and Mathematics Institutes of our University.
DVN: What is the most exciting non-automotive research project in your department?
Prof. Khanh: Here I want to mention two topics: lighting for vertical farming and light for healthcare. In the vertical farming group, three PhD students are finding out how the growth and the amount of different ingredients of plants can be controlled by irradiation, not only for food plants, but also for the extraction of basic elements for drugs and medical devices. In the health lighting group, five PhD students are caring for the improvement of different diseases with the help of light. Both are really exciting and fascinating fields of lighting research.
DVN: How do you manage the weekly lighting lessons?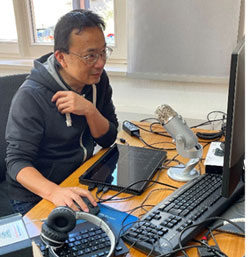 Prof. Khanh: I record 12 lessons on video, each one 90 minutes long. The students can watch these videos on a university platform in which they have to log in with an individual password. The laboratory lessons are done by one student and one assistant as a hybrid in the lighting lab. All other students can watch the practical courses on video. The examinations are oral on a video platform. The whole University runs under the same process.
DVN: How about ISAL? Are the preparations running well?
Prof. Khanh: We sincerely hope that the Covid pandemic allows a live ISAL conference. We have to consider that the number of people in the Darmstadtium conference centre will be restricted to about 450 from the over 1,000 of 2019's ISAL conference. Parallel sessions have to disappear probably. We are planning a hybrid conference with a live stream for all the interested people worldwide who want to follow ISAL. Today there are so many uncertainties that precise planning is impossible; we have to adapt week by week. A lot of things can happen before September 13th.